Washington's military equipment concentration near the oil fields in Syria's north-east will only result in escalating tensions, Russian Deputy Foreign Minister Mikhail Bodganov said on Friday, condemning the United States' illegal military presence in the Arab country.
"We cannot welcome this. On the contrary, it only leads to the additional escalation of tension," Bogdanov told reporters.
He added that the situation would be addressed at the upcoming Astana-format meeting, scheduled for December 10-11.
"We will discuss these matters, the whole situation, especially in the context of ensuring a standstill and putting an end to the military presence of different sides, which is absolutely illegal and which has not been confirmed either by any international decision, I mean the UN Security Council, or by a request of the Syrian Arab Republic's legal government," Bodganov added.
Earlier this month it was reported that a US military convoy consisting of 22 military vehicles and two trucks crossed the Syrian-Iraqi border and positioned itself near several oil deposits in northeastern Syria.
The move came amid numerous statements by US President Donald Trump underlining the main US aim in Syria as retaining control over the country's oil fields.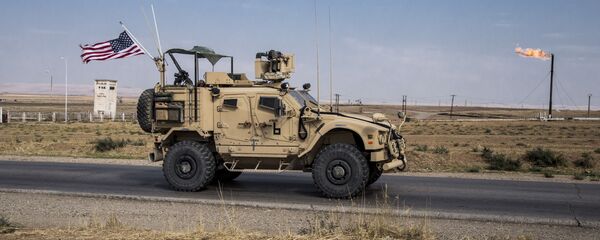 22 November 2019, 18:35 GMT
"We have our troops out of there, and we will be bringing a lot of them back home, but again we are keeping the oil," Trump said at the beginning of his meeting with his Turkish counterpart Recep Tayyip Erdogan on 13 November.
About 90 percent of Syrian oil reserves are concentrated to the east of the Euphrates River, the region that was previously a stronghold and main source of income for Daesh* and is now mainly controlled by the Syrian Democratic Forces.
*Daesh (also known as IS/ISIS/ISIL/Islamic state) a terrorist organisation banned in Russia and any other countries