The US Treasury has announced that it is introducing sanctions against 17 individuals and 29 entities from Cyprus, Latvia, Serbia and Venezuela, as well as against four additional companies: Ventspils Freeport's Authority, Ventspils Development Agency, the Latvia-based Business Development Association and the Latvian Transit Business Association.
"Today, on International Anti-Corruption Day, the US [Treasury] is targeting corrupt actors and their networks across numerous countries in Europe, Asia, and Latin America. Additionally, two corrupt Venezuelan officials were also designated today […] in light of their senior leadership roles in the [President Nicolas] Maduro regime", the Treasury's Secretary Steven T. Mnuchin said.
Among those sanctioned by the US Treasury on 9 December are Mayor of the Latvian city of Ventspils Aivars Lembergs, whom the US suspects of corruption, misappropriation of state assets, and bribery, and Slobodan Tesic, called one of "the biggest dealers of arms and munitions in the Balkans", as well as several entities and individuals related to him.
The Treasury also added two Venezuelan officials, Gustavo Adolfo Vizcaino Gil and Juan Carlos Dugarte Padron, over their alleged participation in kickback schemes, sale of passports, and corruption.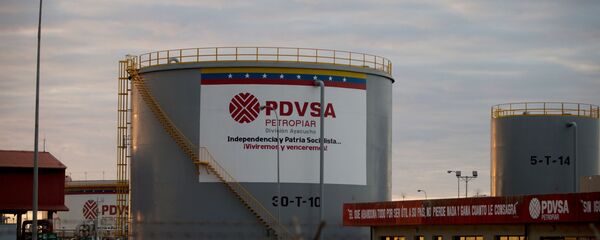 29 November 2019, 17:27 GMT
The US has been imposing sanctions against Venezuela and its officials in recent years in hitherto fruitless attempts to force its duly elected President Nicolas Maduro to resign. Namely, Washington has limited Caracas' ability to sell crude, one of its most crucial export goods, as the country is struggling to overcome an economic crisis and rampant inflation.
The sanctions were issued within the framework established by the Magnitsky Sanctions Act, which enables the US government to impose economic measures against individuals and entities around the world for, in Washington's view, violating human rights.