Swiss-based Allseas Group S.A. said in a statement early on Saturday that it had suspended its commitments to the landmark European energy project due to possible US restrictions.
"In anticipation of the enactment of the National Defense Authorization Act (NDAA), Allseas has suspended its Nord Stream 2 pipelay activities. Allseas will proceed, consistent with the legislation's wind down provision, and expect guidance comprising of the necessary regulatory, technical and environmental clarifications from the relevant US authority", the statement said.
The Swiss-based engineering giant had been responsible for the installment of deep-sea gas pipes. Earlier this week, US Senators Ted Cruz and Ron Johnson, in a letter to Allseas Group S.A., urged the multinational to immediately stop its activities on the project and warned of "crippling sanctions" under the NDAA.
The Nord Stream 2 project is a joint venture between Russia's Gazprom and five European companies — France's ENGIE, Austria's OMV, the UK-Dutch Royal Dutch Shell, and Germany's Uniper and Wintershall. The 745-mile-long twin gas pipelines will carry nearly 2 trillion cubic feet of gas per year from Russia to Germany, passing through territorial waters and exclusive economic zones belonging to Denmark, Finland, Germany, Russia and Sweden.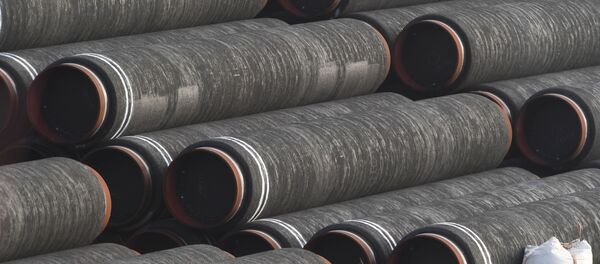 20 December 2019, 17:01 GMT
Russian Foreign Minister Sergey Lavrov stressed that US sanctions would not hinder the mammoth energy project. German Chancellor Angela Merkel
strongly opposes
 US sanctions and has vowed to "decisively" address the issue with Washington.
If the NDAA is enacted with current sanctions provisions, the bill would target entities and individuals involved in providing services on the pipeline and have their US visas revoked and financial assets in the US frozen. The bill also provides for a 30-day grace period for groups and individuals to wind down their involvement in the gas pipeline.