US forces have carried out strikes targeting five Kata'ib Hezbollah facilities in Syria and Iraq, including weapons storage locations and command and control bases, the Pentagon said in a statement Sunday.
"In response to repeated Kata'ib Hezbollah (KH) attacks on Iraqi bases that host Operation Inherent Resolve (OIR) coalition forces, US forces have conducted precision defensive strikes against five KH facilities in Iraq and Syria that will degrade [the group's] ability to conduct future attacks against OIR forces," Pentagon spokesman Jonathan Hoffman said.
Unidentified military sources and militia commanders told Reuters that the US strikes, believed to have been carried out by drones, killed 'several' militia fighters.
Kata'ib Hezbollah is an Iraqi Shia paramilitary group formed during the Iraq War as an insurgency resisting the US military occupation following the 2003 US invasion. More recently, the group took part in Iraq's battle against the Daesh (ISIS)* terrorist group, joining the so-called 'Popular Mobilisation Forces' coalition of Baghdad-allied militias which helped drive the terrorists out of the country between 2016 and 2017. The group is believed to be affiliated with Iran, and the State Department has accused Lebanon's Hezbollah movement of providing Kata'ib Hezbollah with military assistance.
© AFP 2023 / HAIDAR HAMDANI
Members of the Hezbollah Brigade in Iraq, a Shiite movement supporting the Iraqi government forces in the ongoing clashes against Islamic State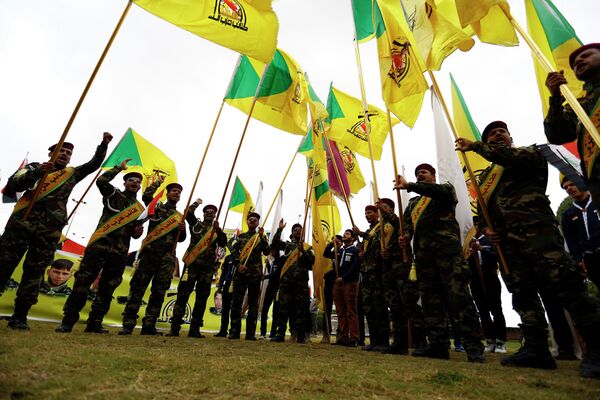 Members of the Hezbollah Brigade in Iraq, a Shiite movement supporting the Iraqi government forces in the ongoing clashes against Islamic State
On Friday, the US accused Kata'ib Hezbollah of involvement in a deadly rocket attack on the K1 military base outside Kirkuk, northern Iraq. The attack claimed the life of a US civilian contractor and left several US service members with light injuries. The K1 military base has been targeted repeatedly in recent weeks. No group took immediate responsibility for Friday's attack.
Iraq has been rocked by mass protests for nearly three months now, with protesters clashing with security forces and demanding the government's resignation, as well as economic reforms, improved living conditions and an end to corruption. It's estimated that up to 400 people have been killed and 15,000 have been injured in the violence.
A protester in Najaf, Iraq
Earlier this year, the Fatah Coalition, a major Shia-led bloc in the Iraqi parliament, called on the US to withdraw its remaining 5,000 or so troops from the country. Earlier, parliamentary deputy speaker Hasan al-Kaabi said that the legislature was working on a bill to terminate Baghdad's security agreement with Washington and force all remaining foreign troops to leave.
In 2011, after over over eight years of occupation following the 2003 invasion, the US withdrew its forces from Iraq in accordance with an agreement with Baghdad. However, after Daesh began advancing and taking over wide swathes of Iraqi and Syrian territory in 2014 and 2015, the US began redeploying in the country, with US troop numbers reaching about 5,000 as of mid-2019.
---
* A terrorist group outlawed in Russia and many other countries.