"The short-sighted steps by the United States that resulted in the killing of Qasem Soleimani lead to a sharp escalation of the military-political situation in the Middle East region and to serious negative consequences for the entire global security system", the ministry said in a statement.
The ministry said that long before the US-led coalition, Soleimani had organised armed resistance to the Daesh* terrorist group and al-Qaeda* in Syria and Iraq. 
"His personal merits in fighting against Daesh on Syrian territory are unquestionable", it said.
The statement comes after Soleimani and Iraqi militia commander Abu Mahdi al-Muhandis along with 10 other people were killed on Friday morning in an airstrike on the outskirts of Baghdad that was authorized by US President Donald Trump.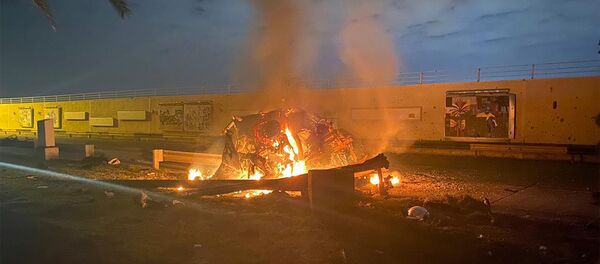 3 January 2020, 12:30 GMT
Earlier in the day, Influential Shiite politician and prominent cleric Muqtada al-Sadr called on supporters to be ready to defend the country, while Popular Mobilization Forces also urged followers to prepare for a response to Washington.