Iraqi militia commander Qais al-Khazali said on Wednesday that Baghdad would follow Iran's response to the killing of its top military commander Qasem Soleimani on 3 January by the US, Reuters reported. Al-Khazali noted that the Iraqi response would not be "any less" than Tehran's retaliation, following the death of Iraqi Shia Kata'ib Hezbollah leader Abu Mahdi al-Muhandis who was also killed in the US strike. 
"The initial Iranian response to the assassination of the martyred commander Soleimani has happened. Now it is time for the initial response to the assassination of the martyred commander Muhandis. And because Iraqis are brave and zealous, their response will not be any less than that of Iran's. That is a promise", al-Khazali was quoted as saying.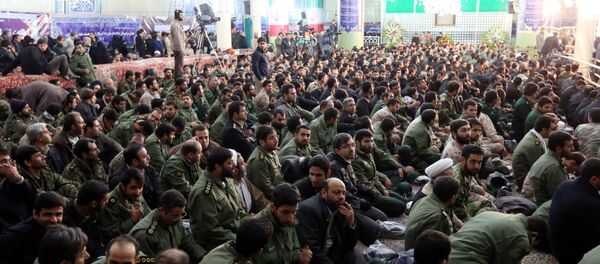 7 January 2020, 22:24 GMT
Major General Soleimani and Iraqi militia commander al-Muhandis were both killed by a US drone strike on Friday, 3 January near Baghdad International Airport. Tehran vowed to avage the death of its top military commander, later responding with two waves of airstikes launched against American military facilities in Iraq.
Iranian Foreign Minister Javad Zarif later called Tehran's actions "proportionate measures in self-defence" in line with the UN Charter, while Supreme Leader Ali Khamenei branded the airstrikes a "slap" in America's face.