German Chancellor Angela Merkel lauded Nord Stream 2 as a "very important" project that will benefit not only Germany, but many other European countries. Therefore, she called for completing it regardless of US sanctions threats. Russian President Vladimir Putin, in turn, thanked Merkel for Germany's continuing support for the pipeline project.
While the chancellor labelled the US sanctions against Nord Stream "wrong", she admitted that Europe needs to diversify its gas sources. She stressed, however, that the pipeline is purely an economic project.
Commenting on the US sanctions and their effect on the Nord Stream 2 pipeline's completion, Putin said that Russia would be able to finish it even without foreign partners. The president noted that the only effect that US sanctions might have is to delay the date when Nord Stream is finished. According to Putin, the gas pipeline will be operational by the end of the first quarter of 2021 at the latest.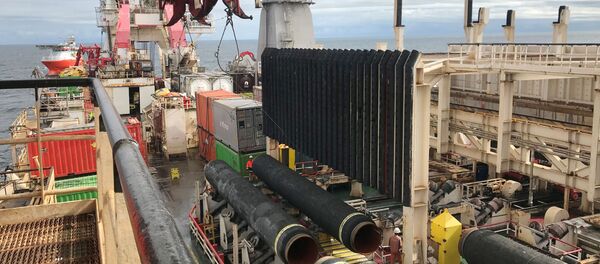 30 December 2019, 11:59 GMT
Washington has repeatedly criticised European countries, specifically Germany, for supporting the Nord Stream 2 project and continuing to buy natural gas from Russia, while also demanding that the US defend them against potential Russian aggression. US President Donald Trump offered more expensive American liquefied natural gas for the EU to buy instead.
In December 2019, the US Congress adopted a bill that introduced a mechanism allowing for economic sanctions to be slapped on any entity helping to build the Nord Stream 2 pipeline.