Additional Sessions Judge at Delhi's Patiala House Court passed on order on Friday, delaying the death penalty for four people convicted of a gang-rape.
This is the second time the court delays the execution. From the very beginning, the date of the execution was set for 22 January and was postponed later until 1 February.
The new date of the execution still remains unknown.
According to India's law, a convict can't be hanged, while legal proceedings of his accomplices pending in the court. As the court's ruling says, two of the four convicts still have the right for a mercy plea.
Asha Devi, mother of the 2012 Delhi gang-rape victim: The lawyer of the convicts, AP Singh has challenged me saying that the convicts will never be executed. I will continue my fight. The government will have to execute the convicts. pic.twitter.com/NqihzqisQo

— ANI (@ANI) January 31, 2020
​​India's Minister of State for Home Affairs has called on the Supreme Court to amend the country's "convict-centric" guidelines in the law and change them for "victim-centric" sin order to return people's faith in the rule of law.
G Kishan Reddy, MoS Home: There is a need to debate on how convicts of heinous crimes are delaying the death penalty even after the Supreme Court order by exploiting the judicial process. (file pic) pic.twitter.com/XDJ2600pal

— ANI (@ANI) January 31, 2020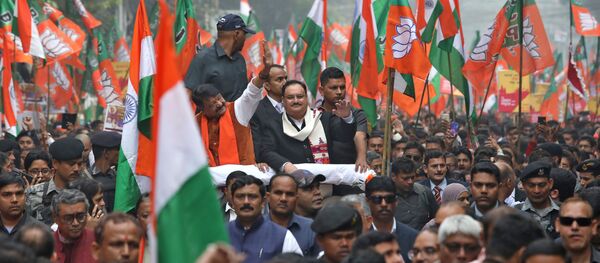 28 January 2020, 07:06 GMT
A fatal assault on Jyoti Singh, who was gang-raped by six men in a bus while returning home from a movie theatre with a male friend, took place on 16 December 2012. The victim succumbed to her injuries in a hospital shortly after the incident.
The assault galvanised the nation and led to protests demanding justice for the medical student and the safety of women across the country.