A source from the Syrian army said that the Syrian military was completing the encirclement of the town. The Syrian military source said that their drones observed several groups of armed militants fleeing after the Syrian army approached the town. The militants fled Saraqib through the north, using the road which leads to the town of Taftanaz.
Previously, al-Watan newspaper reported that the Syrian government army entered Saraqib in the northwest of Syria, causing militants based there to flee the town.
Earlier, Turkish President Erdogan warned that Ankara would respond to the Syrian army's possible failure to withdraw its troops behind the line of Turkish observation posts by the end of this month.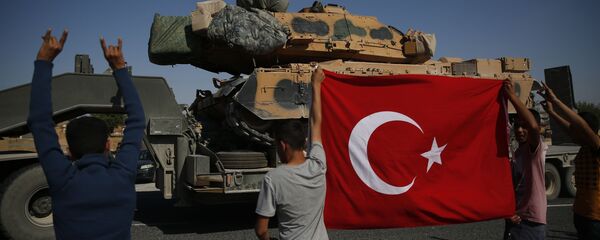 4 February 2020, 10:35 GMT
Saraqib has three Turkish observation posts.
The Turkish military presence in Syria has never been endorsed either by Damascus or the UN Security Council. Turkey says its forces are stationed in the region in order to prevent conflicts in Idlib.
Fighting has escalated in Syria's Idlib recently, as the Syrian government has been struggling to recapture control over the area, which remains a major terrorist stronghold in the country.
UPDATE: The initial report from a source suggested that the Syrian army had retaken control of Saraqib. However, another source in the Syrian military later refuted the report, saying that the armed forces were completing the encirclement 
*Jabhat al-Nusra (also known as Jabhat al-Nusra, Jabhat Fatah al-Sham, or al-Qaeda in Syria) is a terrorist organisation banned in Russia