Syrian government broadcaster Akhbar said on Wednesday that its camera crew was attacked by militants in the west of Aleppo Province. Another Syrian news agency, SANA, has also said that its employees have been injured as a result of the attack.
"A film crew of the Akhbar state television channel [Syria TV], which was covering the advance of the Syrian army, was harmed by an attack by terrorist groups in the western part of Aleppo province," the channel reported.
The incident comes amid increased tensions in the neighbouring Idlib province as the Turkish Defence Ministry conducted attacks on the Syrian army units on Monday and Tuesday.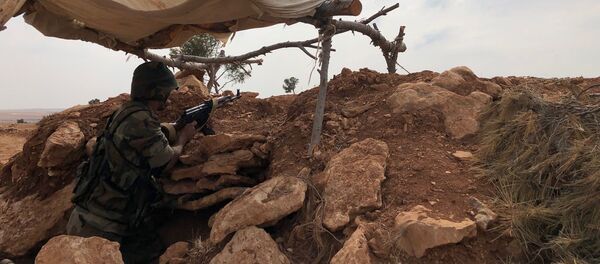 11 February 2020, 18:39 GMT
The day before, the ministry said that 51 units belonging to the Syrian Army, including two tanks, an anti-aircraft installation site and a munitions depot,
 have been destroyed
.
On Monday, the ministry claimed that five Turkish soldiers were killed and five were injured as a result of shelling of an Idlib observation post by the Syrian army.
In response, the Turkish armed forces fired at 115 targets of the Syrian army, and neutralised 101 servicemen, according to the Turkish ministry.