US Secretary of State Mike Pompeo stated on Saturday that the death of the North Atlantic Treaty Organisation (NATO) was grossly exaggerated, adding that the West's ideals and values would prevail.
"I'm happy to report that the death of the transatlantic alliance is grossly exaggerated. The West is winning, and we're winning together," Pompeo said while delivering a speech at the Munich Security Conference.
Pompeo's statement comes hot on the heels of the recent opinion poll that showed that the number of people who view the bloc positively dropped by at the least 10 percent in the US (from 62 to 52 percent), France (60 to 49 per cent), and Germany (67 to 57 per cent) between 2017 and 2019.
French President Emmanuel Macron, however, has expressed his disagreement, saying that "the West was weakening."
"There is a weakening of the West. There's an American policy that started several years ago and not just under this administration that includes a certain kind of withdrawal, of a rethink of its relationship with Europe," Macron said.
It's not the first time that the French president is out of lockstep with his NATO partners over the situation in the bloc.
Last November, Macron said during an interview that European countries could no longer rely on the United States to defend NATO allies, adding that "what we are currently experiencing is the brain death of NATO".
At that time, German Chancellor Angela Merkel and NATO's Secretary-General Jens Stoltenberg ripped Macron for his "drastic words." 
On Allegations Against China's Huawei
The US secretary of state has also touched upon the issue of China's tech giant Huawei, saying that the telecommunications firm is used by the Chinese government to increase influence in the cyberspace.
"Huawei and other Chinese state-backed tech companies are Trojan horses for Chinese intelligence," Pompeo said.
Pompeo's words have been echoed by the statement of US Secretary of Defence Mark Esper, who said that Washington was working with technology companies to develop an alternative to China's 5G technologies.
"We are encouraging allied and US tech companies to develop alternative 5G solutions and we are working alongside them to test these technologies at our military bases as we speak," Esper said at the Munich Security Conference.
Washington formally blacklisted Huawei and other Chinese technology companies in May 2019, citing their threats to US national security. However, as top US tech giants including Microsoft, Intel, and Google have expressed concern that restrictions against Chinese companies could lead to billions of dollars in lost exports, the Treasury has repeatedly extended licenses allowing US tech companies to continue doing business with the Asian nation.
The situation around the tech giant escalated earlier in the year after UK Prime Minister Boris Johnson allowed Huawei to supply non-sensitive parts of infrastructure (such as radio masts and antennas) for the nation's 5G networks, despite Donald Trump's months-long pressure campaign against the Chinese giant.
Following the decision, the Trump administration has threatened repeatedly that it would cut crucial intelligence-sharing cooperation with the UK, its key partner in Europe.
On Europe's Reliance on Russian Gas
Speaking further, the US senior official said that Washington would allocate up to $1 billion to boost energy projects in eastern Europe in order to reduce its reliance on Russian natural gas.
"The United States through our International Development Finance Corporation, and with the support of the US Congress intends to provide up to $1 billion in financing to the Central and Eastern European countries of the Three Seas Initiative," Pompeo said.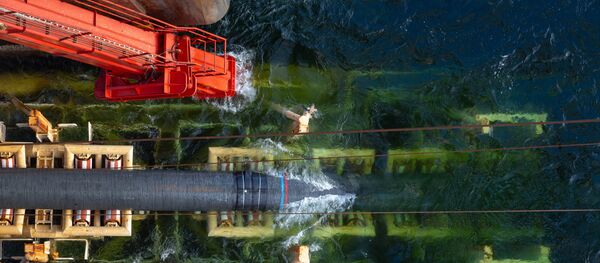 23 December 2019, 17:52 GMT
The statement comes as Russia is working hard to launch its Nord Stream 2 pipeline project that fell under US sanctions last December. Washington called the move a "pro-European" step aimed at defending the continent's energy security.
 The European Commission, however, has slammed the US for trying to punish European companies "conducting legitimate business" and promised to study possible implications that the new sanctions might have on these companies.