Moscow is introducing a home isolation regime for all citizens starting from 30 March, Mayor Sergei Sobyanin said on his website.
"From tomorrow on [Monday, 30 March], a self-isolation regime is declared for all Moscow residents irrespective of age", the mayor's office said in a statement on its website.
He specified that people are only allowed to leave their apartment in cases of seeking urgent medical care or in the event of other direct threats to life and health. People can also travel to work if they are obliged to go to work, make purchases at the nearest shop or pharmacy, walk pets up to a distance not exceeding 100 metres from their place of residence, and take out household waste.
"At the same time, the home regime does not limit the right of citizens to come to Moscow or leave it. It is only about not moving around the city without good reason", the statement read.
The mayor continued on by saying that the authorities will gradually strengthen controls in relation to the self-isolation regime. Moscow residents will only be allowed to leave their homes with a special permit issued by the city's government, according to the statement.
"Special passes... their format, and requirements for getting them will be regulated by a separate decree to be issued by the Moscow City Council. No special permit will be required to get around the city until the decree has been issued", the crisis centre said on Telegram.
In the meantime, the Russian president and his administration will continue working as normal amid the mandatory self-isolation order in Moscow.
"No, we are working in line with the schedule", Kremlin spokesman Dmitry Peskov said, when asked if the presidency would switch to working remotely due to the new restrictions in the Russian capital.
Moscow Region Also Introduces Home Isolation Regime for Residents
Moscow region residents will also be able to leave their homes in order to seek emergency medical assistance and in the event of other life-threatening circumstances. They will be able to go to work, the nearest grocery store, pharmacy, and bank, as well as walk pets – but not farther than 100 metres (330 feet) from home – and dispose of trash, according to the authorities.
Almost 15,000 eateries and over 40,000 non-essential stores have closed in the city amid the partial shutdown. People over 65 have been asked to stay inside until at least mid-April.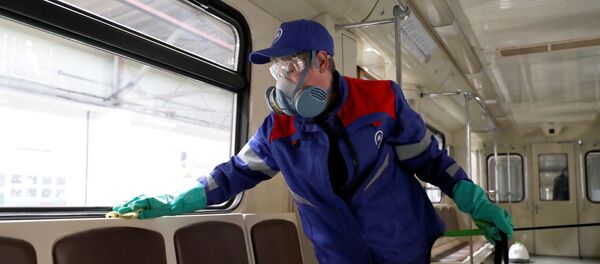 Sobyanin reprimanded the 20 percent of the elderly in Moscow who have travelled far from home, although geolocation data collected by mobile operators showed that two-thirds were doing exactly as told.
The operational headquarters set up to combat COVID-19 said in a statement that the number of those infected in Moscow had increased by 197 to 1,014. Of them, 32 were over 65 years old and 13 were children.
Russia began a nine-day period of voluntary self-isolation on 28 March to limit the spread of COVID-19. Russians will have a paid week off from work until 5 April, which could be extended.