The fire in the Chernobyl Exclusion Zone has been extinguished, the Ukrainian Emergencies Agency reported.
"Ukraine's State Service on Emergency Situations needs several more days to extinguish the afterburn that remains following the fire in the exclusion zone of the Chernobyl Nuclear Plant", the president's press service said.
The emergency services also stated that radiation levels in surrounding areas and the region around the capital Kiev are within normal limits and do not exceed natural background levels.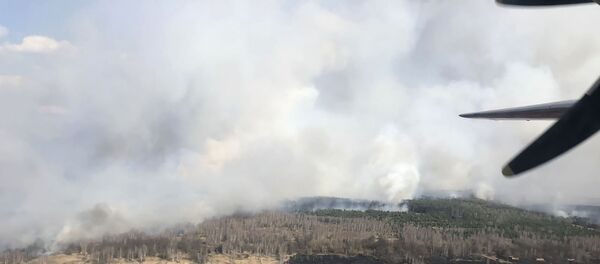 On 4 April, a forest fire began near the site of the nuclear catastrophe and the State Emergency Service mobilised early the next day. By 7 April, the fires covered 86 acres of territory. Police said they have apprehended the suspected arsonist behind the blaze and have launched a criminal case.
About 1,000 square miles were completely depopulated and left for nature to reclaim following the 1986 disaster at the Chernobyl nuclear power plant (NPP). Sprawling forests and the build up of shrubbery have rendered the area prone to more intense wildfires.