A man who earlier today witnessed a stabbing attack that left six people injured in Glasgow described the incident as absolute carnage. John, who works in the delivery service, stumbled on the scene as he was coming down the stairs in the hotel where the attack occurred. The hotel, John said, is full of refugees, who were housed there because of the coronavirus outbreak.
"I was talking to the receptionist and the maintenance guy - lying on the floor, blood pouring out of them. 3 people out on the street that were staying in hotels were stabbed as well. The guy had run back up to his room. The police had come in, went up to the room, the armed response mob shot the guy and ... it was absolutely f**ing carnage. I was lying on the floor next to the maintenance guy's f**king big puncture wound, trying to compress his wound, it was f**king horrific, absolutely horrific."
Six people are currently being treated at the hospital for injuries, including a 42-year-old police officer who is in critical but stable condition. The perpetrator was shot dead by the police. Authorities said they are not treating the incident as a terrorist act and noted there is no "wider risk" to the public.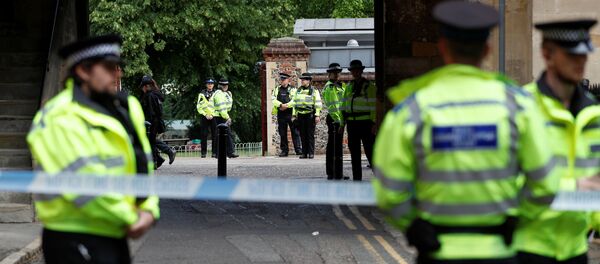 The incident comes five days after three people were killed in a stabbing attack in a park in Reading. Officials revealed that the perpetrator, 25-year-old Khairi Saadallah, came from Libya and was known to MI5 intelligence agency as a person who might travel overseas for terrorism purposes.