The Federal Bureau of Investigation is opening a new China-related counterintelligence investigation approximately once every 10 hours, with nearly half of the agency's roughly 5,000 active counterintelligence cases related to the Asian nation, FBI Director Christopher Wray has said.
Speaking at an event hosted by the Hudson Institute, a Washington-based think tank, on Tuesday, Wray made a number of China-related allegations, accusing Beijing of spying on "huge numbers" of Americans via hack attacks and listing off a series of alleged economic espionage cases by Chinese interests against the US.
"These cases were among more than a thousand investigations the FBI into China's actual and attempted theft of American technology, and that's not even talking about the more than a thousand other ongoing counterintelligence investigations of other kinds related to China," he said. "We're conducting these kinds of investigations in all 56 of our field offices, and over the past decade we've seen economic espionage cases with a link to China increase by approximately 1300 percent," he added.
"At this very moment, China is working to compromise American health care organizations, pharmaceutical companies, and academic institutions conducting essential COVID-19 research," Wray alleged.
"China is engaged in a whole of state effort to become the world's only superpower by any means necessary," the director suggested, accusing Beijing of a range of crimes from cyber intrusions and the corruption of US officials to "outright physical theft" of everything from "military equipment to wind turbines, to rice and corn seeds."
Wray also charged China with engaging in a "highly sophisticated malign foreign influence campaign" against US officials and journalists whose methods "include bribery, blackmail, and covert deals," as well as economic pressures.
"I will note that the pandemic has unfortunately not stopped any of this. In fact, we've heard from federal, state and even local officials that Chinese diplomats are aggressively urging support for China's handling of the COVID-19 crisis," the FBI director said.
Wray also went after Chinese tech giant Huawei, claiming that the company would provide Americans' data to Chinese Communist Party officials if it were allowed to establish its internet infrastructure on US soil.
Claims Part of a Broader US-China Spat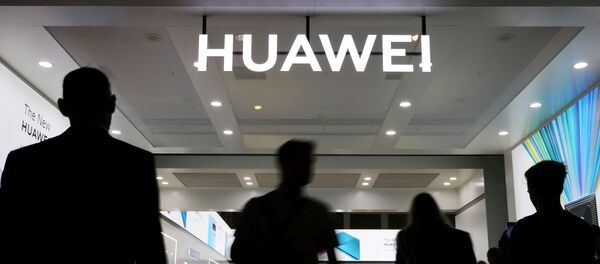 The FBI chief's comments follow the US Federal Communications Commission's
designation
of Huawei and ZTE as national security threats to the United States last week, despite the companies' repeated denial of any wrongdoing.
The tech dispute is part of a much broader conflict between the US and China on issues ranging from trade to geopolitical and military tensions over the South China Sea, Hong Kong, Taiwan, as well as back-and-forth allegations by both sides regarding the nature and origins of the coronavirus pandemic and how to handle it. In mid-May, President Trump indicated that the US could cut off diplomatic relations with China entirely over the coronavirus crisis and shave half a trillion dollars of the US's trade deficit.
China has long dismissed claims made by US officials about its economic, research and business practices, and accused Washington of seeking to restrict fair competition against Chinese companies. In late June, The Wall Street Journal reported that Beijing had "quietly" warned Washington that its purchases under the phase one trade agreement would stop if the Trump administration crossed "red lines" and meddled in areas that the Chinese government considers "off limits."