Johnny Depp has denies claims by a lawyer for The Sun newspaper that he slapped his wife, Amber Heard, after she ridiculed one of his tattoos.
Depp is suing News Group Newspapers - owned by Rupert Murdoch - and Executive Editor Dan Wootton over an article which claimed the actor was violent and abusive to his film star wife Amber Heard.
​Depp, 57, has always denied the allegations, which were made during the couple's 2016 divorce.
Depp - who is most famous for his appearances as Captain Jack Sparrow in the five Pirates of the Caribbean films - was asked on Wednesday, 8 July, about an incident in March 2013 when he had allegedly "fallen off the wagon" after months of sobriety.
Why are they asking him about changing his 'Winona Forever' tattoo to 'Wino Forever' like the man can't have a sense of humour?

— Strawberry Fields. (@sunflxwervolsix) July 8, 2020
​Sasha Wass QC, representing The Sun, claimed Depp, became angry when Heard laughed at one a tattoo which he had changed from "Winona forever" - a reference to his former girlfriend Winona Ryder - to "Wino forever".
© AP Photo / Jason Mendez
Winona Ryder attends the premiere of HBO's "The Plot Against America" at Florence Gould Hall on Wednesday, March 4, 2020, in New York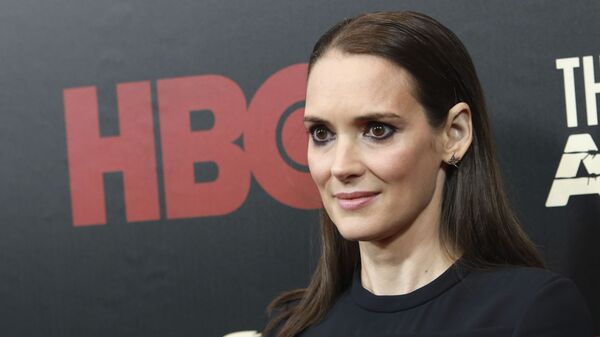 Winona Ryder attends the premiere of HBO's "The Plot Against America" at Florence Gould Hall on Wednesday, March 4, 2020, in New York
© AP Photo / Jason Mendez
Heard - who has starred in Aquaman, The Danish Girl and Magic Mike XXL - has claimed Depp slapped he three times.
But Depp said: "That's not the case, that's untrue. It didn't happen. I don't recall any argument about any of my tattoos."
This is the photo released to the court yesterday showing Johnny Depp on a hospital bed with a severed finger he said he suffered after ex-wife Amber Heard threw a bottle at him. She denies this and says she was a victim of domestic violence. pic.twitter.com/fJwx0ZQw3I

— Adele Robinson (@SkyNewsAdele) July 8, 2020
​Winona Ryder is due to testify on Depp's behalf next week.
Miss Wass said Depp got angry when Ms Heard hung a painting by her former girlfriend, artist Tasya Van Ree, in the bedroom.
Depp admitted he "could be jealous'' but denied he took it off the wall and tried to set it on fire and then slapped Ms Heard when she intervened.
"I did not hit Ms Heard and furthermore I have never hit Ms Heard," he added.
In a witness statement Depp called Amber Heard "narcissistic" and "sociopathic" and said he decided to divorce her when he found faeces in the marital bed, something which he claimed she laughed off as a "harmless prank".
​Depp said he fell in love with Heard on the set of the film The Rum Diary in 2011 but added: "I am now convinced that she came into my life to take from me anything worth taking and then destroy what remained of it."
The court also heard on Wednesday text message exchanges between Depp and British actor Paul Bettany -who starred in Solo: A Star Wars Story - in which they joked about killing Ms Heard and setting her on fire.
At one point Bettany texted: "I'm not sure we should burn Amber. She is delightful company and pleasing on the eye. We could of course do the English course of action and perform a drowning test. Thoughts? You have a swimming pool."
© Sputnik / Ekaterina Chesnokova
 / Go to the mediabank
Paul Bettany (far left) at the premier of Solo: A Star Wars Story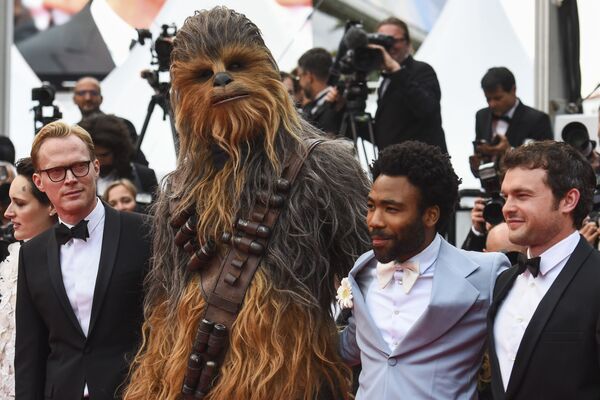 Paul Bettany (far left) at the premier of Solo: A Star Wars Story
© Sputnik / Ekaterina Chesnokova
/
Depp replied: "Let's drown her before we burn her!!! I will f*** her burnt corpse afterwards to make sure she's dead."
Miss Wass also asked Depp whether he had threatened to put Ms Heard's dog, Pistol, in the microwave oven.
Depp admitted there was a "running joke" about putting the dog in the microwave but it was so "ludicrously tiny" but as to whether it was a real threat, he said: "I can say it is a very enduring image but it's an utter falsity."
Johnny Depp told the High Court he believes Amber Heard was plotting a #MeToo "hoax" during most of their relationship as an "insurance policy".

He was responding to an unsent email she wrote in 2013 calling him 'like Dr Jekyll and Mr Hyde', saying she was scared of him at times

— Tristan Kirk (@kirkkorner) July 8, 2020
On Wednesday Miss Wass read out in court an email which Ms Heard composed in June 2013 but never sent to Depp.
In it she wrote: "I just don't know if I can do this anymore. It's like dr jekyl and mr. hyde.  half of you, I love. madly.  the other half scares me. I can't take him. I wish I could, but I can't. The problem is, I never really know/ understand which one I'm dealing with until it's too late."
She went on to write: "The drinking assures me that I am dealing with the monster. the abused scared insecure violent little boy.  I just can't tell where the line starts.  Also drugs seem to guarantee I will be forced to deal with the monster as well."
WAIT! Amber Heard told Johnny Depp Tasya Van Ree- who Amber Heard was arrested for abusing- was violent and has stolen from her. Amber claimed Tasya abused her.
Multiple allegations against ex partners, Amber? pic.twitter.com/PltMelc13B

— Femme (@FemCondition) July 8, 2020
​In the email - which was written three years before the couple divorced - Ms Heard wrote: "I have no reason i have to stay with you. and i wont. you don't pay me. i don't have to lie to you for my job, livelihood or kids.  i will never want to be locked into you.  my freedom is now, i realize, the only thing i have to protect me. i will never ever trust you to trap me."
She goes on to say: "Many times you have hurt me. physically and emotionally from the things you say and did while f***ed up .  the monster comes out and you become mean and horrible. the opposite of why i love you.  and what i am to do?  how would you be if you were in love with one person who was in fact, two ?  Both you, the love of my life, and the monster look the same.  how f***ing confused i feel. i am mad.  so mad."​
The defamation trial, being held before Mr Justice Andrew Nicol at the High Court in London, began on Tuesday and is expected to last 15 days.