The Saudi-led coalition in Yemen has destroyed a pair of explosive-laden remote controlled boats in the Red Sea about 6 km off the western Yemeni port city of As-Salif, Saudi media has reported.
The unmanned "booby-trapped boats" were said to have posed an imminent threat to local shipping lanes and a danger to regional and international security.
Col. Turki al-Maliki, press spokesman for the Saudi-led coalition in Yemen, accused the Houthis of using their positions in Yemen's coastal al-Hudaydah governorate to launch ballistic missiles, drones and booby-trapped and remote-controlled boats to attack passing ships, and of engaging in the random deployment of sea mines in the adjacent Red Sea "in flagrant violation of international humanitarian law" and the Stockholm Agreement on a Yemeni ceasefire.
The report comes less than 24 hours after US Secretary of State Mike Pompeo announced that US and allied forces had intercepted a weapons shipment off Yemen destined for the Houthi militia on June 28, containing 200 RPGs, over 1,700 assault rifles, 21 surface to air and land attack missiles, and several anti-tank missiles. The US reported seizing two more arms-laden vessels off Yemen in November 2019 and February this year, and has blamed Iran for both of the deliveries.
While expressing moral support for the Houthis, Iran has denied that it has provided the militia with arms, pointing to the virtually impenetrable blockade of Yemen by the Saudi-led coalition and US forces.
The Saudi-led military coalition began its intervention in Yemen in March 2015 in a bid to restore ousted President Abd Rabbuh Mansur Hadi to power. Hadi fled to Saudi Arabia in early 2015 after a series of uprisings culminating in the Houthi takeover of the Yemeni capital Sanaa in September 2014.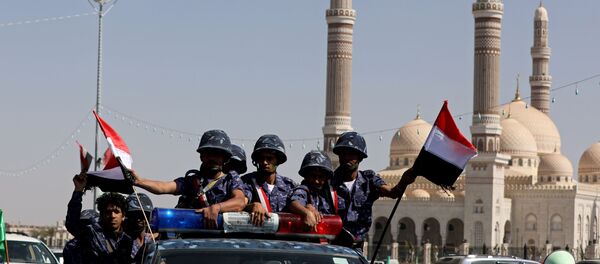 18 November 2019, 22:27 GMT
In recent years, despite its vast superiority in conventional forces, technology and economic resources, the coalition has failed to strike a decisive blow against the Houthis. The Yemeni militia has instead gone on the offensive, targeting infrastructure, oil facilities, military bases, aircraft, warships and population centers in Saudi Arabia using ballistic missiles and small drones which US and Saudi officials claim have been provided by Iran.
The Yemen conflict is believed to have claimed the lives of over 100,000 people, and the United Nations has warned that as many as 22 million people, or 75 percent of Yemen's population, are in dire need of humanitarian assistance to avoid starvation.
In December 2018, the parties to the Yemen conflict met in Stockholm, Sweden and agreed to a series of measures aimed at negotiating a peaceful settlement to the war. However, both sides have since repeatedly violated the ceasefire.