A 39-year-old migrant who was working as a volunteer at the cathedral and was in charge of locking the building on the eve of the blaze has confessed to setting the church on fire, his lawyer Quentin Chabert told the Presse-Ocean newspaper.
"My client has cooperated. He bitterly regrets his actions … My client is consumed with remorse", Chabert said, without providing further details.
The statement comes after the asylum-seeker was detained as part of an investigation into the fire at the Cathedral of St. Peter and St. Paul in Nantes last Saturday and was released a day later.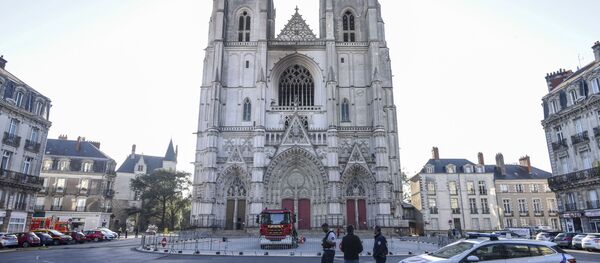 The fire in the large Gothic cathedral began in the morning of 18 July and required the
mobilisation of over 100 firefighters
to put it out. An investigation was launched into possible arson shortly thereafter. The blaze destroyed a 400-year-old organ, but the building itself remains intact and is not at risk of collapsing.
A year ago, on 15 April 2019, a major fire hit Paris' Notre Dame, causing the collapse of the cathedral's spire and the partial destruction of its roof structure. While the cause has yet to be determined, French authorities have ruled out criminal motives.