Malaysia's former prime minister, Najib Razak, has been sentenced to 12 years in prison for crimes linked to the 1MDB scandal, according to a ruling by a Malaysian court.
High court judge Mohamad Nazlan Mohamad Ghazali also sentenced the former official to ten years in jail for criminal breach of trust and money laundering, which he is expected to concurrently serve with his 12-year prison term.
Najib will also have to pay a $49.40 million fine for his crimes related to the 1MDB scandal.
The former prime minister told reporters he intended to appeal the guilty verdict as soon as possible.
"I am surely not satisfied with the result. This is definitely not the end of the world, because there's a process of appeal, and we hope that we would be successful then", Najib said.
Earlier, Malaysian English-language newspaper The Star wrote that Najib had been charged with one count of abuse of power, three counts of money laundering, and three counts of criminal breach of trust (CBT). All of them involved money misappropriated from the 1MDB subsidiary SRC International Sdn Bhd.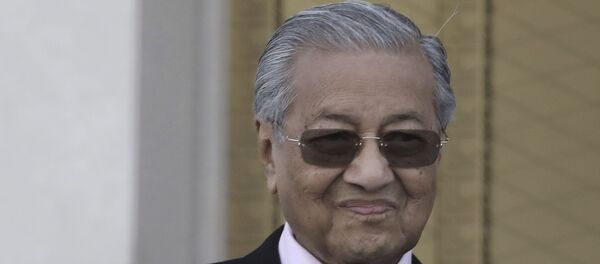 2 November 2019, 03:10 GMT
Malaysia created the 1MDB fund in 2009 to promote the country's economic growth through direct foreign investment and global partnerships. However, a number of officials, including the ex-prime minister, have since been suspected of embezzling around a total of $4.5 billion from the fund. The 1MDB embezzlement case is being investigated simultaneously in Malaysia, Singapore, the US, Switzerland, and several other countries.
The 1MDB embezzlement scandal was one of the main reasons for the failure of the former prime minister's party, the United Malays National Organisation, in the 2018 general elections.