Israel has nothing to do with the massive explosion that rocked Beirut on 4 August, the country's parliamentary TV channel has announced. A similar statement was made by an anonymous Israeli official in an interview with Reuters, while the country's Foreign Minister Gabi Ashkenazi alleged that the blast was likely an accident caused by a fire.
At the same time, a representative for the Israel Defence Forces has declined to comment on the cause of the explosion, specifically on allegations that Israel could be behind it.
"We do not comment on foreign media reports", the IDF spokesperson said.
The Lebanon-based group Hezbollah has also denied allegations that the explosion was a result of a missile attack on a purported weapons cache in the port, where the explosion's epicentre is located, OTV Lebanon reported.
The group's response comes amid rising tensions between it and the Israeli military, which recently killed a Hezbollah member in a missile strike in Syria. At the same time, Hezbollah has been accused of carrying out bombings in Lebanon in the past, with four of its alleged members currently being tried in absentia for a blast that killed former Lebanese Prime Minister Rafiq Hariri along with 21 other people in 2005.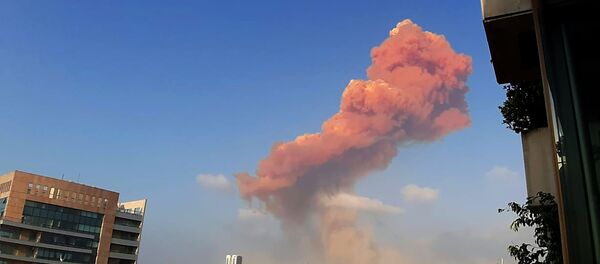 The cause of the massive explosion near the centre of the Lebanese capital, which left at least 10 people dead and dozens more injured, remains unknown. The exact casualty count is yet to be released by the Lebanese government. Beirut's governor has already called the explosion a "national disaster akin to Hiroshima", while Lebanon's prime minister declared Wednesday a national day of mourning.