Global conflicts could only be resolved if Russia was a part of the negotiations to mitigate them, German foreign minister Heiko Maas said in a statement on Tuesday.
Speaking to the media ahead of a visit to Russia, Mr Maas said that Moscow could help resolve global conflicts, citing conflicts in Syria, Libya and Ukraine.
Russia was held a "key role" in international arms control, he said, adding: "German-Russian relations are too important to let them deteriorate".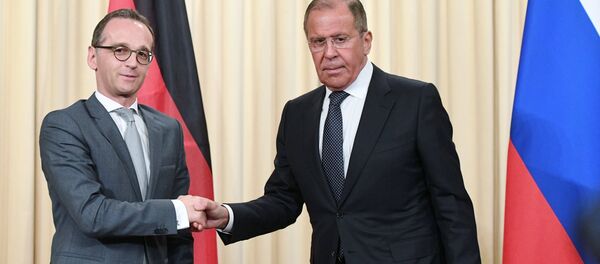 11 August 2020, 09:43 GMT
The German envoy met his counterpart Sergey Lavrov in Moscow and both are set to commemorate the Siege of Leningrad (St Petersburg) at the hands of Nazi forces in late World War II.
The Soviets defeated the Axis powers in a deadly battle lasting 872 days and claiming more than 600,000 lives.
"The siege of Leningrad by the German Wehrmacht, an abominable war crime committed against the Russian people for which Germany bears responsibility and which we must never forget, ended 75 years ago. A little over a year ago, I came to an agreement with my Russian counterpart on a humanitarian gesture for the benefit of the siege survivors. I am pleased that this is now finally taking shape in the form of our support for the hospital for veterans," Maas said in a statement.
The two diplomats attended a meeting on Tuesday on security issues, including Iran, Chinese relations, UK-European Union cooperation, humanitarian crises at refugee camps in Greece, as well as alleged "influence in Europe", among others.