Josep Borrell, High Representative of the European Union for Foreign Affairs and Security Policy, urged Turkey on Sunday to halt its drilling activities in the Eastern Mediterranean, Xinhua reported.
"I call on the Turkish authorities to end these activities immediately and to engage fully and in good faith in a broad dialogue with the European Union", Borrell said in a statement cited by the media outlet.
In the start of August, Turkey resumed its gas drilling activities in disputed areas of the eastern Mediterranean, considered by Greece and Cyprus to be their territorial waters. The operations were temporarily halted in the hope of reaching an agreement with Athens, but according to comments by Turkish President Recep Tayyip Erdogan, Greece "failed" to keep its promises to cease exploration operations in the area, prompting Ankara to send a ship, the Barbaros Hayrettin, to the region. 
On Monday, Turkey's Oruc Reis research vessel began exploration activities in a search for hydrocarbin reserves in territorial waters claimed by Greece, south of Antalya and west of Cyprus. This prompted a harsh response from Athens which pledged to protect its sovereignty by all means necessary, including military ones, while putting its armed forces on high alert. The disputed territory in question also includes Greece's Kastellorizo island which is located a short distance from Turkey's coast. Ankara-Athens disagreements have also been heated by Turkish gas exploration activities off the coast of Cyprus.
© Photo : southfront.org
Eastern Mediterranean Disputes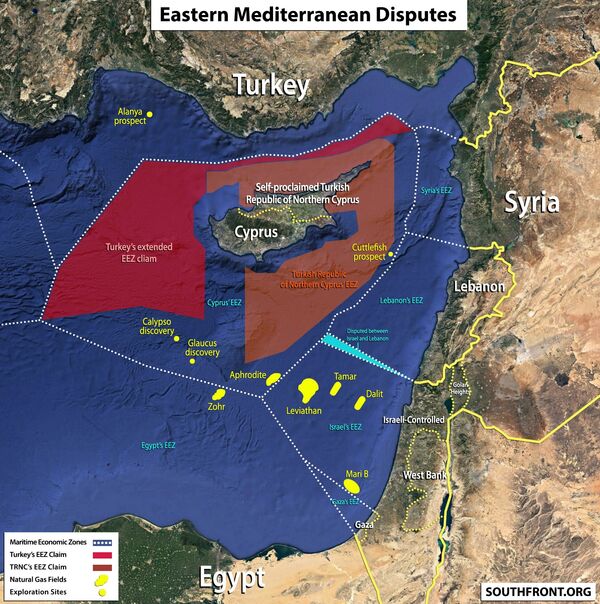 Eastern Mediterranean Disputes
On Thursday, Egypt and Greece signed an agreement which rendered oil and gas-rich portions of the eastern Mediterranean as an exclusive economic zone. However, the deal was slammed by Erdogan as having "no value".
Meanwhile, US lawmakers urged the Trump administration to work closely with the EU and jointly impose sanctions on Turkey in relation to its actions in the sea, which they described as "increasing aggressions".
Both the European Union and the United States warned that if Turkish vessels continue operations in the Eastern Mediterranean they would have to impose sanctions on Ankara. French President Emmanuel Macron also directly slammed Turkey for a "violation of their [Cyprus and Greece] sovereignty" in relation to the country's plans for energy exploration in the Mediterranean.