The Duke and Duchess of Sussex, formerly senior royals who stepped down from their duties earlier this year, may be looking to be offered a lucrative deal to produce podcasts for Spotify, the Mirror reported, citing insiders.
The streaming giant is purportedly hoping to sign the royal couple following the success of the Michelle Obama podcast, which has proved to be a hit project since it launched last month.
"The Duke and Duchess have been on their hit list for a while and a detailed proposal is set to be presented to Meghan's US agent in a matter of weeks", an insider said.
Money is reportedly "no object" for the production company worth $29bn, so Meghan could name her price, it has been suggested.
The plan is reminiscent of a similar venture by the Obamas, which they started after leaving the White House.
In January, the couple reportedly discussed their plans with the former US president and his wife and reportedly wanted at the time to mimic their project.
Since leaving the White House, the Obamas have earned a small fortune by selling rights to their autobiographies and launching their own production company, which has now clenched a lucrative deal with Netflix. 
"They have found huge commercial success without actually looking like they are getting their hands dirty, to put it bluntly, and retaining their popularity", a source recounted.
The Sussexes, who broke away from the extended royal family to lead a personally and financially independent life in North America, already boast some expertise in radio appearances and podcasts.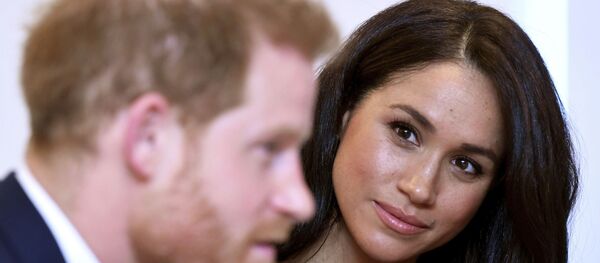 23 August 2020, 11:12 GMT
For instance, as part of their second engagement as a couple, they visited Reprezent 107.3 FM in Brixton, a 24-hour underground music station, and afterwards, in 2017, Harry guest edited BBC Radio 4's Today show. Separately, this week, Meghan took part in an online chat with Gloria Steinem hosted by Makers Women to discuss feminism and  the importance of voting in the upcoming US election, although it caused public uproar, with people lambasting her for going political.
The news that Harry and Meghan, who have now settled down in a newly-purchased Santa Barbara estate, are set to start their own podcast came as the couple were reported by Variety to have been cherishing some special business ides, quietly "pitching" it to "numerous" media companies.
Although there are few details known about the would-be venture, one source with knowledge of the idea said the Sussexes plan to work as joint producers on the venture, should it gain traction.
Earlier, the Sussexes were reported to have started work on their huge charity empire Archewell - a name that purportedly came to Harry and Meghan's mind even before the birth of their son and which virtually became an inspiration for his name: Archie Mountbatten-Windsor.