Alexander Lukashenko has said that he may have 'overstayed a little' in his post as Belarus's president, but added that he believes that only he is capable of defending his nation from the threats it faces at this time.
"Yes, it's possible that I've sat in the president's chair a little too long. It's possible that I'm being shown not only on TV, but from every iron and tea kettle as well. But in truth only I can protect Belarusians right now," Lukashenko said, in an interview with Russian journalists on Tuesday.
The Belarusian president suggested that the ongoing protests in his country have been organized by the United States, which operates through Poland and the Czech Republic, as well as online, plus a small nascent 'bourgeoisie' class in Belarus itself, whom he said "want power."
"We know who's standing behind all these Telegram channels. It's the Americans. We must all understand that this isn't about Belarus. Their main target is Russia! So stay alert," he said.
Commenting on the harsh way in which some protesters, as well as foreign and opposition journalists, were treated during the first few days of protests following the August 9 election, Lukashenko said that there were some 'excesses', but promised that these would be investigated and dealt with. He added that riot police could not be blamed for doing their job and defending the country.
The president also noted that he was personally hurt by the scale of the protests, but said he understood that some Belarusians have forgotten how their country looked 20 years ago, in the difficult years of the 1990s and early 2000s.
Asked to comment on his appearance with an assault rifle in front of Independence Palace in Minsk last month, Lukashenko said it was meant to send a signal to those seeking to overthrow him.
"My appearance with an assault rifle had only one meaning: to say that I did not run away anywhere and was ready to defend my country to the end," Lukashenko said.
© Ruptly . Ruptly
 / Go to the mediabank
Belarusian President Alexander Lukashenko on Sunday arrived at the presidential palace in Minsk by a helicopter and was seen holding an assault rifle in his hand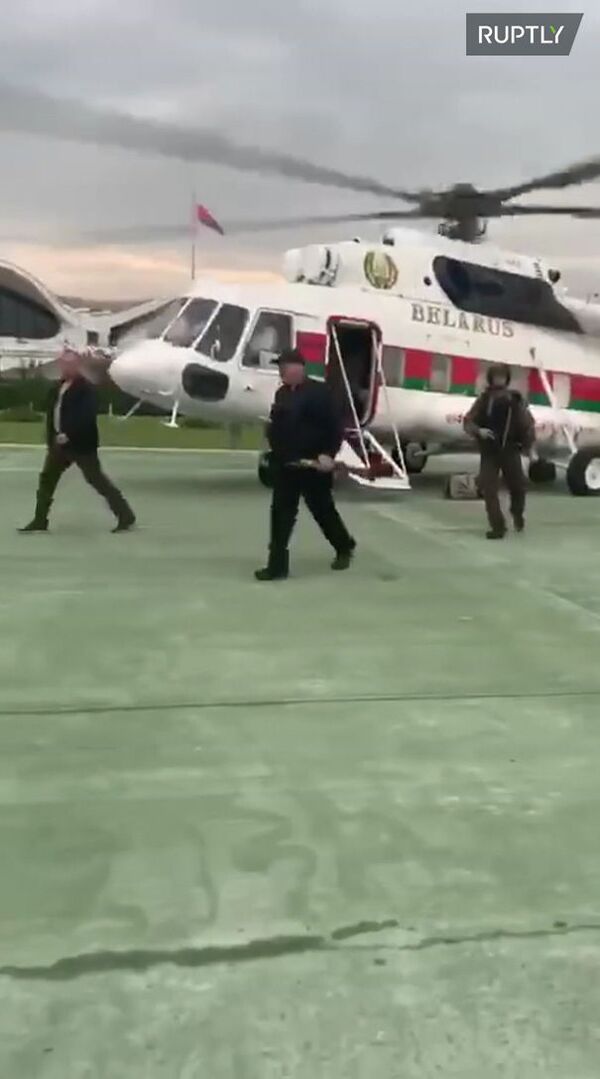 Belarusian President Alexander Lukashenko on Sunday arrived at the presidential palace in Minsk by a helicopter and was seen holding an assault rifle in his hand
Early Elections Possible
Lukashenko noted that he does not rule out early presidential elections following referendum-approved changes to the constitution. "We are ready to carry out a reform of the constitution. After that I won't rule out early presidential elections," he said.
The president added that whatever happens, he could not just leave his post. "I won't just leave. I have been building Belarus for over a quarter of a century. I won't just give it up. Besides, if I leave, my supporters will be slaughtered," he suggested.
Lukashenko also commented on Belarusian security forces' decision to detain opposition figure Maria Kolesnikova Tuesday morning as she attempted to cross the border between Belarus and Ukraine, saying it was the correct decision. Kolesnikova, a member of the presidium of the Belarusian opposition's so-called 'coordination council', and two other members of the council were detained on the Belarusian-Ukrainian border Tuesday morning after their BMW attempted a high-speed maneuver to break through a border checkpoint to escape Belarus.
Other members of the opposition, including presidential candidate Svetlana Tikhanovskaya, fled the country earlier. Tikhanovskaya left for Lithuania on August 10, and from there has met with European and US officials and made efforts to coordinate the opposition inside Belarus.
In his interview, Lukashenko indicated that he would not speak to the so-called 'coordination council', saying he doesn't consider them to be a real opposition with any constructive platform for the country.
"I will not speak to the opposition's coordination council, because I don't know who these people are. They are not opposition. All they're offering is a disaster for Belarus and the Belarusian people. They want to sever all our ties with fraternal Russia. They want us to have paid education and medicine. They want for all our industrial enterprises to be destroyed, and for workers to be left without a job," the president said.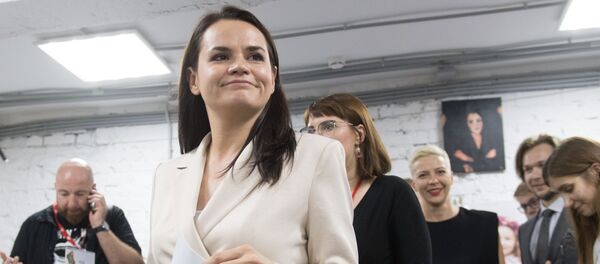 18 August 2020, 19:45 GMT
Lukashenko agreed to give a long interview to Russian media on Tuesday, with journalists including Sputnik and RT editor-in-chief Margarita Simonyan invited to speak to the Belarusian president to discuss "the most pressing" issues of the day.
Over a Quarter Century in Power
Alexander Lukashenko has been president of Belarus since 1994, when he won a runoff against Vyacheslav Kebich, one of the drafters of the Belavezha Accords which dissolved the Soviet Union in 1991, with a margin of 80.6 percent against 14.2 percent. Since then, his government moved to initiate a political, economic and strategic integration with Russia, returned the country's Soviet-style flag, and worked to prevent the collapse of the country's major industries, state farms, educational and medical institutions during the transition from communism to a market economy.
Lukashenko has won every election since, with a margin between 77.4 percent and 84.4 percent. Following the elections of August 9, 2020, the opposition accused him and election authorities of falsifying the results, and claiming that their own monitoring had shown that Svetlana Tikhanovskaya had defeated him. The dispute led to large scale street protests in Minsk and other cities, with thousands of protesters arrested, three protesters killed, and hundreds of people injured, including over 200 demonstrators and 103 members of the security forces.
An opposition protest in Minsk
Lukashenko has denied the opposition's claims of mass vote-rigging, suggesting it was technically impossible, and accused them of trying to overthrow him, wanting to end Belarus's partnership with Russia and move Minsk toward the West while selling off the country's strategic assets and industries.