The Nord Stream 2 pipeline is an economic project based on the investments of large energy companies, most of them European, rather than on some political agreements, the project's operator has stated.
"Nord Stream 2 is not based on political deals between countries, but on multi-billion investments of the six top energy companies, five of which represent European Union countries", the operator said.
Nord Stream AG added that the pipeline project is being implemented in accordance with national and international laws and that it has received all the necessary clearances from the regulating bodies of the five countries involved.
New Challenges for Nord Stream 2 Over Navalny's Alleged Poisoning
The pipeline, the construction of which has faced numerous challenges, such as negotiating the terms for it to operate, being granted clearances from involved countries, and US sanctions, is now facing the threat of being stopped near its competition. The issue emerged after Germany accused Moscow of poisoning opposition activist Alexei Navalny with a military-grade nerve agent from the Novichok group. While Berlin has failed to hand over data proving that the activist was poisoned, something that was dismissed by the Russian doctors during his initial hospitalisation, the German government demands that Russia explain itself and find those responsible, threatening to block Nord Stream 2's construction as a punitive measure.
© AP Photo / Stefan Sauer
Activists occupy a German pipeline building site in Wrangelsburg, northern Germany, Thursday, May 16, 2019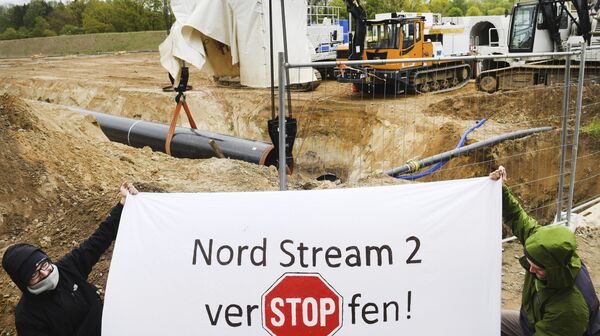 Activists occupy a German pipeline building site in Wrangelsburg, northern Germany, Thursday, May 16, 2019
© AP Photo / Stefan Sauer
Apart from the German authorities, Danish Prime Minister Mette Frederiksen also called for restarting the discussion regarding Nord Stream's construction in light of the alleged poisoning, which Moscow denies being responsible for. At the same time, the Dutch Energy Agency said that it would not be withdrawing its clearance for Nord Stream 2's construction, noting that the country has an obligation to allow building transit pipelines through its waters should they meet the ecological norms established by the country's laws.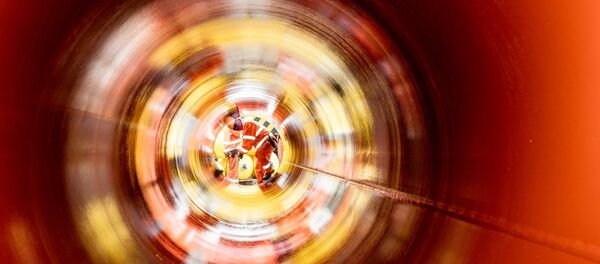 11 September 2020, 13:29 GMT
If Nord Stream 2 manages to overcome the current challenge, the mega-project, funded by Russia's Gazprom and five EU energy giants, Uniper, Wintershall, OMV, Engie, and Royal Dutch Shell, will be capable of pumping around 55 billion cubic metres of gas each year from Russia to Germany and the rest of Europe. Berlin has long defended the project as purely economic and not a political one, before starting to question the pipeline's future itself following Navalny's alleged poisoning.