The highly successful 'Howdy, Modi', which was held in the US in September 2019 and attracted 50,000 Indians, was arranged by the Indian-American community and was designed to show the world how successful relations between the two countries are.
However, after criticism from opposition parties, India's foreign ministry clarified on Thursday that the highly popular gathering in September 2019 did not receive financial support from the government exchequer.
In a further clarification, India's Minister of State for External Affairs, Vellamvelly Muraleedharan, said that "a US-based non-profit organisation, The Texas India Forum Inc, organised the event titled, 'Howdy, Modi! Shared Dreams, Bright Futures' in Houston on 22 September last year".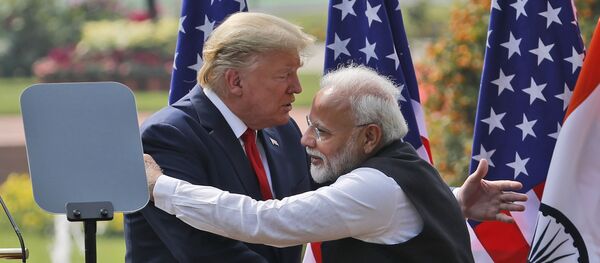 23 August 2020, 10:45 GMT
"The Indian government neither incurred any financial expense for that event nor had funded the organizers of the event,"  Muraleedharan said.
Modi was invited to the event by the organisers and addressed a gathering of members of the Indian-American community and many of their elected representatives.
Last month, the campaign team for US President Donald Trump released a video that comprises clips of Modi's speeches during his visit to America, including the Houston event, and Trump's speech in India in February 2020 during the Namaste Trump gathering.