The Global Times, China's state-run news agency, has been regularly posting videos of Chinese troops training in the rough border terrains, flaunting the country's might. Once again, the outlet has tweeted a snippet showing soldiers "facing stern challenges like landslides, wolf attacks and armed lawbreakers". 
​The video, that was seemingly intended to exhibit the brawn of Chinese troops, ended up attracting mockery from Indian netizens, who have reacted with pictures of Chinese soldiers crying aboard a bus.
​In recent months, several similar videos have been posted by the Global Times as well as its editor Hu Xijin – all of which have been ridiculed by Indian netizens against the backdrop of the prevailing border tensions in the Ladakh region.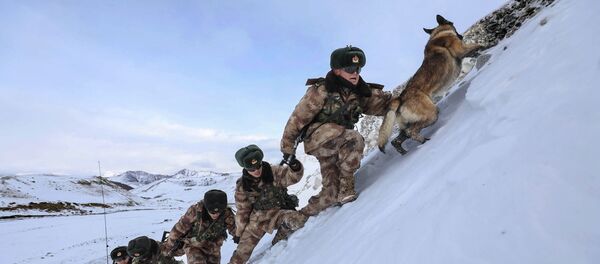 14 September 2020, 11:48 GMT
The Indian and Chinese soldiers have been on guard at the Line of Actual Control (LAC) since April, when the two countries accused each other of violating the loosely-demarcated border line.
A total of 20 Indian soldiers were killed in hand-to-hand combat overnight on 15-16 June, after which the border woes between the nations worsened.
India banned a total of 233 Chinese apps, citing national security reasons, and the #BoycottMadeinChina movement has been trending in the country, encouraging Indians to ditch Chinese products.