Kuwaiti Emir Sabah Al-Ahmad Al-Jaber Al-Sabah, 91, has passed away while receiving treatment in the US. Prior to the announcement, Kuwaiti television interrupted regular programming to cut to Koranic verses - a move which often signifies the death of a senior member of the country's ruling family.
الديوان الأميري: ببالغ الحزن والأسى ننعى إلى الشعب الكويتي والأمتين العربية والإسلامية وشعوب العالم الصديقة وفاة المغفور له بإذن الله تعالى صاحب السمو الشيخ صباح الأحمد الجابر الصباح أمير دولة الكويت الذي انتقل إلى جوار ربه pic.twitter.com/NxeybFCx37

— كـــــــــــونا KUNA (@kuna_ar) September 29, 2020
​The announcement comes hours after media reports suggested that Kuwait's ruler had died. However, commenting on these reports, Minister of Amiri Diwan Affairs Sheikh Ali Jarrah Al-Sabah stated that the emir's health is stable and he is receiving a prescribed treatment.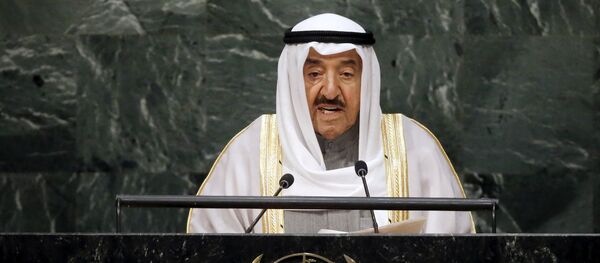 The emir's office said in July that the head of state was hospitalised for medical examinations. The emir's younger brother and the crown prince of Kuwait, Nawaf Al-Ahmad Al-Jaber Al-Sabah, was assigned to temporarily take over a number of emir's constitutional jurisdictions.
Later in July, Sabah was transferred from Kuwait to the Mayo Clinic in the US city of Rochester, Minnesota, where reportedly underwent surgery to remove two tumours. Since then, the Kuwaiti authorities had repeatedly said that the emir's health condition was stable and he was on the mend.
Last year, Kuwait acknowledged that the emir had suffered an unspecified medical "setback" that required him to be hospitalised.
Sheikh Sabah governed Kuwait, an OPEC oil producer, since 2006 and steered its foreign policy for more than 50 years. He pushed for diplomacy to solve regional issues, such as the ongoing boycott of Qatar by four Arab nations, and hosted major donor conferences for war-torn nations like Iraq and Syria.