During the Tuesday debate held in Cleveland, Ohio, Donald Trump looked "stronger" than his Democrat rival Joe Biden, who "was mostly playing it safe" and "rambled from time to time", says Ethan Ralph, political commentator and founder of The Ralph Retort website.
"He [the US president] went hard in many respects, but I do think he might have held back a little too much. I really don't think there's any downside for Trump to go full throttle and bring up some of Biden's proclivities towards creepy behaviour. Maybe we'll see that in debate number 2 or 3", Ralph opines, specifying that Trump "came out strong", but "faded a bit" as the debate was coming to a close.
Polls conducted by US mainstream media outlets show that Biden left Trump trailing when it came to the results of the debate, with CNN reporting that 6 in 10 voters considered the Democratic candidate to be the winner (as opposed to 28% who said the incumbent president was the winner), CBS News/YouGov saying that 48% against 42% called the former vice president the winner, and Data for Progress concluding the same with a 52-39 margin.
At the same time, the debate was described as "chaotic", "childish", "gruelling", as well as "ill-tempered and at times incomprehensible squabble" by global media, including the BBC, The Times, and France's Liberation. Echoing this narrative is Mark Shanahan, an associate professor and head of the Politics and International Relations Department at the Berkshire-based University of Reading, who, like the majority of mainstream media, considered the event anything but a debate, stressing that it "rapidly descended into an unedifying slanging match".
"Biden was too easily dragged into responding to the president's jibes rather than scoring useful points of his own on policy and principle", Shanahan opines, claiming that "nobody won last night" and that "the American public may have been the biggest loser".
Stressing that any winner of the debate will be hotly contested, US-based political commentator Mike Hoxard argues that US president "came out on top as he had the advantage in accomplishments over Biden", whose defence "consisted of sarcastic grins and childish insults".
"Trump had the advantage due to his experience as president and his 'gotcha' moment with the General Flynn comment. Go back and watch that. It was the only time Biden didn't respond. His expression spoke volumes and that was an important moment most media will not focus on", Hoxard says. 
The Flynn moment refers to the US president accusing the Democratic nominee of being behind the idea of going after General Flynn with the Logan Act, an American federal law that criminalises unauthorised US citizens' negotiations with foreign governments having a dispute with America.
Hoxard notes that "Biden had a surprised, if not guilty, look on his face and he did not reply".
The 29 September event was the first of three presidential debates, with the second and third ones scheduled for 15 October and 22 October at the Adrienne Arsht Center for the Performing Arts in Miami and Belmont University in Nashville, respectively.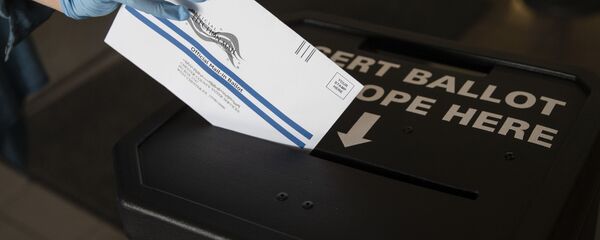 16 August 2020, 09:11 GMT
The debate came as at least 34 US states, along with Washington, D.C., have already okayed mail-in voting, with states such as Colorado, Hawaii, and Oregon allowing each and every registered voter to automatically send mail-in ballots if they don't want to head to the polls in person.
In Arizona and New Jersey, voters are allowed to be placed on a permanent mail-in voting list so that they can get a ballot for all future elections.
President Trump has repeatedly lashed out at mail-in ballots, describing them as a "disaster" and warning that Americans may never learn the results of the 2020 presidential election if such ballots are widely used.