Russian President Vladimir Putin has hailed the successful test of a Zircon missile, stating it was an important event for the country and contributes to the nation's security. He also expressed gratitude to all of the people involved in the project, thanking Defence Minister Sergei Shoigu and Chief of the General Staff of the Russian Armed Forces Valery Gerasimov as well.
"I would like to thank all of you for the work done, for its results and express hope that in the future all of the specialists involved in the rearmament of the Russian military will [continue to] work as efficiently and as persistently as it has done to this point", the president said during a video meeting with the General Staff.
Putin made the statement after the military confirmed the successful completion of the test.
"Yesterday, the frigate Admiral Gorshkov launched the Zircon cruise missile from the White Sea at a target located in the Barents Sea. The task was completed successfully, a direct hit was registered. The range of the flight reached 450 kilometres [279 miles], maximum altitude totaled 28 kilometres, and the duration of the flight totaled 4.5 minutes. The missile developed a speed of over Mach 8", General Gerasimov said.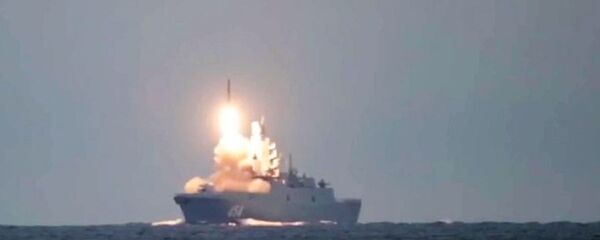 7 October 2020, 07:51 GMT
Testing of the Zircon began in 2015, with nearly a dozen launches completed by 2018. President Putin mentioned the Zircon in his 2018 speech to parliament as one of the main strategic systems capable of evading American missile defences and thus guaranteeing Russia's response capability.