Senior Ukrainian presidential aide Andriy Yermak said on Friday that the UK had expressed readiness to provide the country with a hefty lethal weapons contract, in addition to a £1 billion ($1.2 billion) loan to the Ukrainian Navy.
The statement came as President Volodymyr Zelensky met UK Prime Minister Boris Johnson in London to sign a spate of bilateral cooperation agreements.
Yermak claimed that recent mass protests in neighbouring Belarus pose a possible threat to Ukraine, which he said is seeking assurances from the EU and the UK about their willingness to help Kiev maintain national security.
In this vein, he also referred to a simmering military conflict in eastern Ukraine's Donbass region, touting the current truce as "a huge achievement".
'Unwise Move'
London's push for sending lethal arms to Ukraine may have far-reaching consequences, political analysts warn in the wake of Yermak's remarks.
"What we are seeing at the moment is that the UK […] is […] placing itself as a major country which is solely interested in making money", Adriel Kasonta, a London-based political consultant, says.
He describes London's decision to provide Kiev with lethal weapons as an "unwise move" that contributes to escalating the conflict in Ukraine. According to Kasonta, Britain may now be "perceived as a threat to the world rather than a positively contributing actor".
The UK "sending lethal weapons to Ukraine is very bad news first and foremost for Ukrainians as it can only dramatically increase the likelihood of a lethal conflict" in the country, British political analyst Marcus Godwyn, for his part, notes.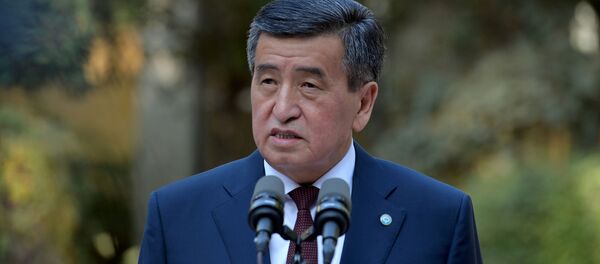 9 October 2020, 01:29 GMT
Britain's planned arms supplies to Ukraine may exacerbate the regional situation in the former Soviet republics that border Russia, Stevan Gajic, PhD in political science from the Institute of European Studies in Belgrade, says.
Gajic notes that while the Ukrainian conflict shows no sign of abating, amid mass protests that recently broke out in Belarus and Kyrgyzstan. Additionally, Armenia and Azerbaijan have resumed hostilities over the breakaway region of Nagorno-Karabakh, he adds.
Gajic is echoed by Dragana Trifkovic, director of the Belgrade-based Centre for Geostrategic Studies and chairwoman of the Committee for International Cooperation of the parliamentary party Dveri, who predicts that London's planned weapons deliveries to Kiev "can only complicate the complex relations in the area of the former USSR and drag this area further into political and any other conflicts".
"I think that is not in the interest of Ukraine [….] or any other country", she points out, adding that "it would be best for the UK to [instead] send pandemic drugs or other medical devices to Ukraine, as well as a team of doctors", which "would be a far more humane move".
Ukraine Conflict
Kiev launched a special military operation in south-eastern Ukraine in April 2014, after local residents refused to recognise the new central authorities, who came to power as a result of a coup. This was preceded by residents voting for the creation of the independent Donetsk (DNR) and Lugansk (LNR) People's Republics.

29 December 2019, 17:15 GMT
In February 2015, the two sides reached a peace agreement after talks brokered by the leaders of Russia, France, Germany, and Ukraine — the so-called Normandy Four — in the Belarusian capital Minsk.
The deal stipulates a full ceasefire, withdrawal of weapons from the line of contact in Donbass, as well as constitutional reforms that would give a special status to the DNR and the LNR.
The ceasefire regime has repeatedly been violated, with both sides accusing each other of multiple breaches, undermining the terms of the accord.
Yermak's remarks come after the Pentagon reportedly signed off on an additional $125 million in its lethal military aid to Ukraine. The latter had earlier received batches of US military hardware, including patrol vehicles, fast boats, radar systems, and Javelin anti-tank missiles.
© AP Photo / Efrem Lukatsky
Ukrainian soldier armed with US Javelin ride along Khreshchatyk Street, during a military parade to celebrate Independence Day in Kiev, Ukraine. File photo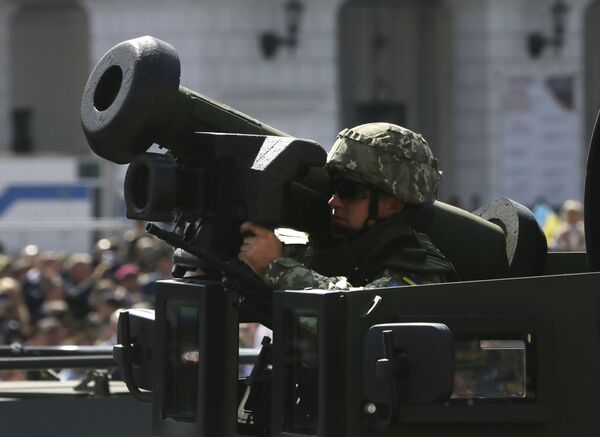 Ukrainian soldier armed with US Javelin ride along Khreshchatyk Street, during a military parade to celebrate Independence Day in Kiev, Ukraine. File photo
© AP Photo / Efrem Lukatsky
The aid is part of a $250 million package appropriated by Congress in its 2020 National Defence Authorisation Act, legislation that committed a whopping $738 billion to America's defence spending, including tens of billions for US operations overseas.
Russia has repeatedly warned the global community against supplying weapons to Ukraine, saying that such actions would escalate the military conflict in the Donbass region.