German Foreign Minister Heiko Maas urged Turkey to refrain from "provocation" in the eastern Mediterranean, while signalling support for Cyprus and Greece in the gas drilling dispute, according to his Tuesday comments, quoted by Reuters. 
"Ankara must end the interplay between detente and provocation if the government is interested in talks - as it has repeatedly affirmed," Maas said shortly before boarding a plane heading to Cyprus and Greece.
The official called on Turkey to refrain from resuming gas exploration in territory to which Greece claims exclusive economic rights and remain open to negotiations.
On Sunday, Turkey confirmed that its research ship Oruc Reis would return to disputed waters in the eastern Mediterranean and will carry out its research activities in the area until 22 October. The move was condemned by Greece, as the two powers have just held talks in Bratislava as a part of an international forum, following the escalation of tensions over gas research activities this summer. 
Greece's foreign ministry said on Monday that Turkey was "unreliable" following its decision to send Oruc Reis back to the area close to Greek island of Kastellorizo after it initially returned to Turkish docks in September. The development signalled a "direct threat to regional peace and security", Athens said.
Turkey-Greece-Cyprus Tensions in Eastern Mediterranean Explained
At the heart of Turkey-Greece dispute are gas fields close to Kastellorizo, a Greek island located just 2 km from Turkey's coast. Athens opposes any exploration activity in the area, which it believes enroaches on its continental shelf, but Ankara insists that foreign islands in such a close proximity to its shores cannot have continental shelves and thus its drilling activities in the area are legal.
In August, Turkey resumed its exploration activities in a search for hydrocarbin reserves in waters disputed by Greece, with Athens considering the move a breach of its sovereignty while putting its armed forces on high alert. 
The tensions were eventually relieved, amid sanctions pressure and strong urges from European Union. Turkish vessel returned back to its shores in September to "allow for diplomacy".
However, Turkey's Defence Minister Hulusi Akar maintained that the ship's return was a part of scheduled operations and said that Ankara was not "giving up" its "rights" to hold exploration activities in the waters.
© Photo : southfront.org
Eastern Mediterranean Disputes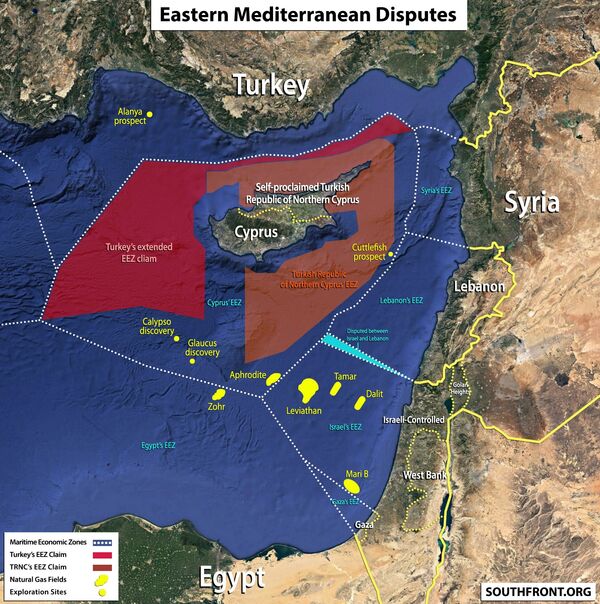 Eastern Mediterranean Disputes
Cyprus also has competing claims with Turkey over the waters south of Antalya, as Ankara insists that resources close to the Turkish Republic of Northern Cyprus should be shared. Turkey is the only country in the world that recognises Northern Cyprus as independent state. 
Last year, Ankara stepped up its drilling activities in the west of Cyprus, a move that was condemned by international community. The Cypriot government still criticised the European Union over its "policy of appeasement" in relation to Turkey's drilling bid.