Azerbaijan's President Ilham Aliyev expressed his belief in an interview with Sputnik that Armenia's Prime Minister Nikol Pashinyan was a product of US billionaire and philanthropist George Soros, known for his generous donations to political causes.
"The collapse of the Soviet Union indeed started with separatism in Nagorno-Karabakh. That was the trigger. People often forget about those rallies, who organised all this, who was behind it," Azerbaijani President Ilham Aliyev told Sputnik News Agency Director General Dmitry Kiselev in an exclusive interview.
"I often say that Pashinyan is a product of Soros, and I believe everyone would agree with that. Soros is not just an individual, he is a concept. I in no way rule out that such instruments were used back then to disintegrate the great nation. Just blow it up from the inside, sow discord, play off the people, and disintegrate the country."
Azerbaijan to Never Accept Nagorno-Karabakh's Independence
"Our stance has always been based on pragmatism and I think that the ideas that already exist at the negotiating table show this clearly. As for the red lines, we have stated this clearly and the co-chairs of the Minsk Group know this very well — under no circumstances can the territorial integrity of Azerbaijan be compromised, under no circumstances can Azerbaijan agree to recognise the independence of Nagorno-Karabakh."
Baku Sees Karabakh Conflict as War of Liberation, While Yerevan Views it as Conquest
"Any war means cruelty, victims, human suffering, loss of loved ones, but the difference is that this is a war of liberation for Azerbaijan and a war of conquest for Armenia. It is no secret — and it is something that international mediators are aware of — that there are no so-called armed forces of Nagorno-Karabakh. Ninety percent of the troops in the group that Armenia calls by this name are Armenian citizens. The Armenian military summons them and sends them to Azerbaijan's occupied territories: Agdam, Fizuli, Gebrayil, Kalbajar, Qubadli, Lachin, Zangilan."
Armenian, Azerbaijani Communities Can Coexist in Nagorno-Karabakh
At the same time, Baku believes that "the Armenian community and the Azerbaijani one can peacefully live and coexist in Nagorno-Karabakh in the future", the president said.
Aliyev explained this was already the case in other areas of Azerbaijan, including the capital Baku, with its thousands-strong Armenian community, as well as in Russia, Georgia, and other countries.
"Why can't we have it here?" Aliyev said.
No Foreign Mercenaries Fighting on Azerbaijan's Side in Karabakh
Azerbaijan's President Ilham Aliyev has reaffirmed that no foreign mercenaries are fighting alongside his country in Karabakh, and also noted that no one has ever provided evidence to substantiate these claims.
Aliyev stressed that Azerbaijan did not need any foreign military assistance, as its army comprises over 100,000 servicemen and could be "boosted by several times" if needed.
Azerbaijan's armed groups can cope with any task, the president went on to say, pointing to the fact that no mercenary could boast similar professionalism and technical capacities.
"The capabilities of the Azerbaijani Army are not a secret for anyone. We have no need for additional military forces. Azerbaijan has always been consistently fighting international terrorism. We will never allow terrorist organisations to have 'nests' on our territory and pose a threat to our people and our neighbours. We will never allow this. No one has presented any proof to support the claims that foreign armed formations are present on Azerbaijani territory and take part in the ongoing clashes. We have no foreign mercenaries, this is our official stance", Aliyev said.
Azerbaijan's unmanned aerial vehicles alone have destroyed over $1 billion worth of Armenian military equipment, the president noted.
---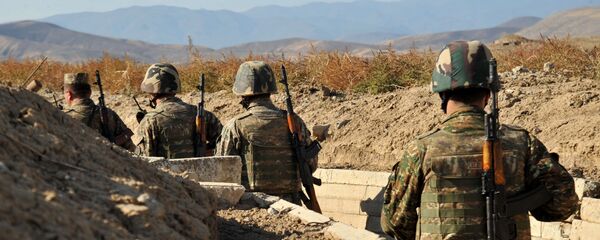 29 September 2020, 13:23 GMT
The conflict between Armenians and Azerbaijanis over Nagorno-Karabakh began in 1988, when nationalist sentiments unleashed by Mikhail Gorbachev's perestroika reforms prompted ethnic Armenians living in the Nagorno-Karabakh Autonomous Region of the Azerbaijani Soviet Socialist Republic to accuse Baku of discrimination and to attempt to break off from the republic and join the Armenian Soviet Socialist Republic. Baku tried to stop this from happening, and in late 1991 its parliament formally abolished Karabakh's autonomous status.
Between 1992 and 1994, the two sides waged a brutal, full-scale war for control, with the conflict killing tens of thousands of troops and civilians, and leading to the displacement of more than 1.1 million Armenians and Azerbaijanis, both within the breakaway region and across both republics. In the decades since, Azerbaijan has repeatedly expressed its intention to regain its lost territories. Armenia, meanwhile, has suggested that ethnic Armenians would be ethnically cleansed if this happened.
The decades-old standoff escalated on 27 September, with both Baku and Yerevan accusing each other of sparking military hostilities.