After media reports emerged that Joe Biden had allegedly been involved in his son Hunter's business dealings during Obama's presidency, US commentator Christopher Stear recently likened the Biden family to a fictional mafia clan from a certain HBO series.
While discussing the matter on Sky News Australia, Stear remarked that "it's a bit like the Soprano family, but probably worse".
"You've got Joe Biden on tape, admitting in front of an audience that he blackmailed the Ukrainian government into sacking the prosecutor who was investigating his son's dealings where he was getting up to about $180,000 a month for sitting on a board that he knew nothing about at the time, when he was a desperately ill drug addict", he said. "If that's not buying influence, I don't know what is."
The commentator even went on to describe the situation as the "biggest political story" of his lifetime.
"It shows the Biden — to paraphrase [former New York mayor] Rudy Giuliani, the 'Biden Crime Family' — to be explicitly involved for decades in using Joe Biden's position to leverage money from countries. First, from Iraq, second from China, third again, we see from Ukraine, in the hundreds of millions", Stear noted, adding that "it's not one of those 'go away stories'."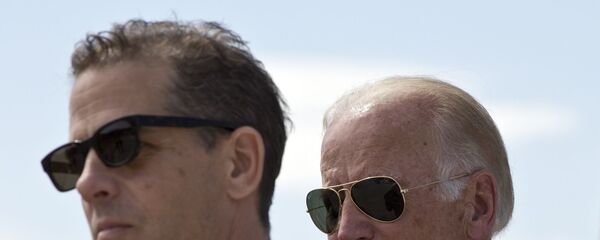 17 October 2020, 21:27 GMT
Stears' remarks come in the wake of a bombshell report by the New York Post alleging that in 2015, Hunter Biden organised a meeting between his father, then vice-president in the Obama administration, and Vadym Pozharskiy, his colleague from the Ukrainian gas firm Burisma.
The report in question was apparently based on findings made on a laptop allegedly linked to the Biden family, that was dropped off for repairs and data restoration in the state of Delaware by an unidentified person in April 2019, but was never collected.