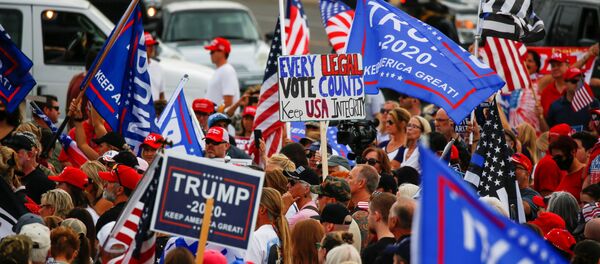 3 November 2020, 06:27 GMT
"America, I'm honored that you have chosen me to lead our great country. The work ahead of us will be hard, but I promise you this: I will be a President for all Americans — whether you voted for me or not. I will keep the faith that you have placed in me," Biden wrote on Twitter.
Earlier in the day, the CNN, Fox News and NBC broadcasters and the AP news agency projected that Biden has won the presidential election.
Donald Trump in his turn stated that the US presidential election is not over despite several media outlets projecting Democratic nominee Joe Biden as the winner.
This year, tens of millions of Americans cast their votes via mail due to the coronavirus pandemic. Addressing the issue, President Donald Trump has repeatedly called into question the trustworthiness of mail-in ballots. On Wednesday, his campaign filed lawsuits in Michigan, Georgia, and Pennsylvania, citing alleged electoral violations.
Follow Sputnik's Live Feed to Find Out More!