Former chief White House strategist Steve Bannon has claimed that the US is now "hurtling toward a сonstitutional сrisis", which he suggested may start "sometime around early December".
He made the remarks as he interviewed Navy SEAL and former Missouri Governor Eric Greitens about the US elections on his "War Room" podcast on YouTube late last week.
Greitens, for his part, urged Republicans to "band together" in their struggle for fair elections now that all major US networks have already projected Democratic nominee Joe Biden as the winner.
Bannon's comments followed his "War Room" Twitter account being suspended last week after he commented on the reports of Trump firing FBI Director Christopher Wray and head of the US National Institute of Allergy and Infectious Diseases, Dr Anthony Fauci, before saying that he would "put their heads on pikes".
Both Wray and Fauci are known as persons who are not favoured by Trump. The FBI director drew POTUS' ire after alleging that the Trump campaign had colluded with Russia during the 2016 presidential election and later denied any possibility of voter fraud, concerns voiced by Trump in the months leading up to the November election.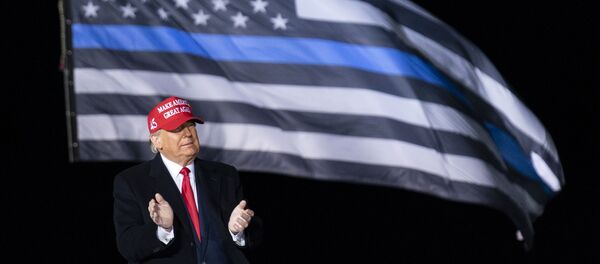 19 October 2020, 02:54 GMT
Fauci has repeatedly challenged Trump's coronavirus pandemic rhetoric, contradicting the president's statements regarding
the spread of COVID-19
and possible treatments for the disease.
A loyal Trump supporter, Bannon was formerly a chief strategist on the POTUS team before being fired by the president.
In August, he was charged with fraud, after, according to federal prosecutors, Bannon and three others used cash received for a "We Build the Wall" fundraising campaign in an "inconsistent way".
Bannon pleaded not guilty to the accusations and was later released on a $5 million bond, pending trial.