An international team of scientists has announced that they may have discovered a river flowing deep below the surface of Greenland. "The results are consistent with a long subglacial river," says Christopher Chambers from Hokkaido University in Japan. He added, however, that "considerable uncertainty remains."
The uncertainty Chambers refers to stems from previous studies and aerial surveys of Greenland, which detected a huge subglacial valley system below large parts of the island. Studies also signaled that the valley is segmented, which prevents water from flowing freely through it.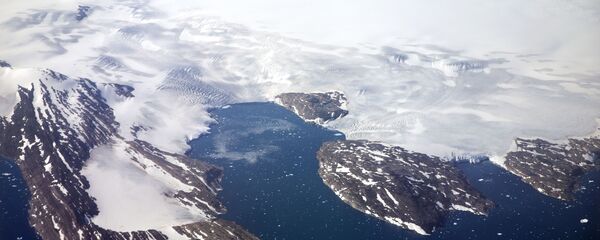 1 October 2020, 21:22 GMT
Chambers and his colleagues conducted a study designed as a "thought experiment", which explored a possibility that the valley is not divided into pieces, but runs as an unbroken river.
The findings of the study, published in the journal The Cryosphere on 12 November, suggest that the purported river flows from the center of Greenland to the northwest of the island. Scientists say that if the results of their experiment are correct the lake may stretch for 1,000 kilometers.
"Additional radar surveys are needed to confirm the simulations are accurate," says Ralph Greve from Hokkaido University, who has been developing the called Simulation Code for Polythermal Ice Sheets (SICOPOLIS) model used in the study. "This could introduce a fundamentally different hydrological system for the Greenland ice sheet. The correct simulation of such a long subglacial hydrological system could be important for accurate future ice sheet simulations under a changing climate."