The prime minister stressed that he has regularly held such conversations with Putin, sometimes several times per day.
"Twice within an hour, I have talked to Russian President Vladimir Putin. We have discussed the issues related to settlements in the Lachin corridor, the exchange of prisoners and bodies of those killed, the deployment of peacekeepers, as well as de-blocking transport communications in the region," Pashinyan wrote on his Facebook page.
Earlier this month, Yerevan and Baku agreed to a ceasefire in Nagorno-Karabakh, putting an end to the six-week war over the disputed area.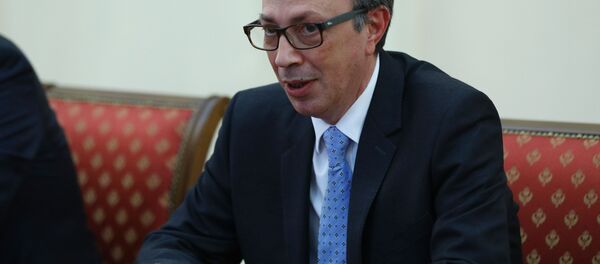 26 November 2020, 03:47 GMT
The agreement resulted in the loss of most territories controlled by the self-proclaimed Armenian-dominated Republic of Artsakh and envisions the deployment of 1,960 Russian peacekeepers to the region, deployed along the line of contact and in the Lachin Corridor.
Previously, during a phone conversation, Putin discussed a number of issues pertaining to the Nagorno-Karabakh conflict with his Azeri counterpart Ilham Aliyev and Armenian Prime Minister Nikol Pashinyan, including major economic issues and the unblocking of transport communications in the region.