On Thursday, Republican and Democratic lawmakers in the House of Representatives blocked each other's attempts to modify the $2.3 trillion combined coronavirus relief and government spending bill that was agreed on earlier this week on, failing to reach a compromise despite the looming threat of a partial government shutdown.
Republicans reportedly blocked Trump's sought-after increase in direct relief cheques for ordinary Americans to $2,000, after Democrats sided with the president's proposal.
Democrats, meanwhile, blocked an effort by Republicans to reduce outlays for foreign aid included in the spending package.
Democratic House Speaker Nancy Pelosi, who previously sought to delay signing a new COVID relief bill ahead of the November election so that Trump wouldn't be able to get "his name on a cheque that goes out," called on the president to sign the existing bill before Monday to avoid a government shutdown. She added that Democratic lawmakers would be back at work next week on a separate, stand-alone bill to increase direct relief payments to $2,000.
Lawmakers had previously rejected a Trump request for a stand-alone payment of $1,200 to every American.
On Tuesday, Trump blasted the earlier agreed upon 5,000+ page coronavirus package and government spending bill, calling it "disgraceful," saying it has "almost nothing to do with COVID" and sending it back to Congress. The bill, the president said, had taken "forever" to be finalised, but filled with billions and billions of dollars in pork barrel spending instead of "urgently needed help to the American people."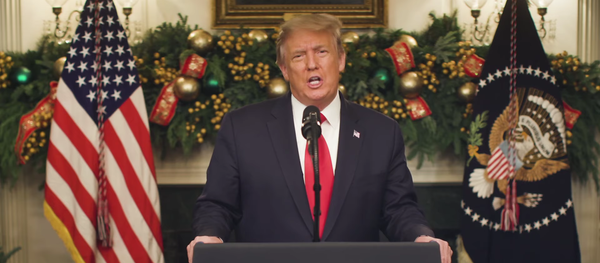 23 December 2020, 11:59 GMT
Trump criticised the bill's inclusion of billions of dollars in assistance to foreign nations, and spending on things like museums, art galleries, fish management services and hatcheries, and hundreds of millions of dollars' worth of construction projects for the FBI, all things he said were non-essential.
The president has not threatened to use his veto power on the original bill. The US government will be partially shut down starting 29 December if he does not sign it. The earlier agreed upon bill seems likely to pass with a congressional override of a potential Trump veto, given that it passed 92-6 in the Senate and 359-53 in the House earlier this month (i.e. more than the 2/3 majority needed to override).
President-elect Joe Biden has publicly praised the original bill, saying it provides "vital relief at a critical time."