According to the embassy's post on Twitter, drivers have been undergoing coronavirus testing on their way to France.
​After London announced it had discovered a highly contagious new variant of the coronavirus SARS-CoV-2, France imposed a ban on arrivals from the UK, leaving thousands of lorry drivers stranded in Kent, southeast England, unable to cross the English channel. However, on Tuesday, Paris agreed to lift the ban on the entrance to the country for those who test negative for COVID-19 within 72 hours.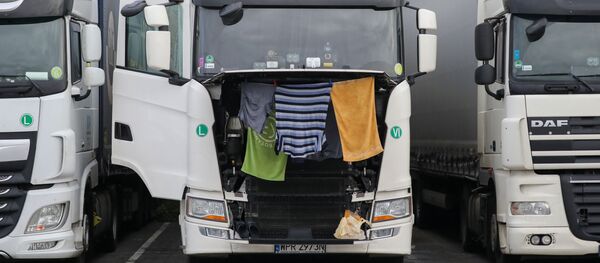 23 December 2020, 18:33 GMT
Under the Paris-London deal, anyone aiming to enter France, but tested positive for COVID-19 will have to take another PCR test and, if still positive, stay in coronavirus-secured hotel accommodation and self-isolate.
Last week, the UK health officials detected a new variant of the coronavirus that is 70 percent more transmissible than other SARS-CoV-2 virus strains. In this regard, over 40 countries across the world closed their borders and halted travel to the United Kingdom.