With the FBI identifying Anthony Warner as the perpetrator of the Christmas Day bombing in Nashville on 25 December, here's a look into what is known about the 63-year-old thus far.
A longtime Nashvillian, Warner reportedly had extensive experience with electronics and alarm systems, working as a freelance IT consultant with the real estate firm Fridrich & Clark.
Sources claimed that a few weeks before the suicide attack, Warner told his ex-girlfriend that he had cancer and gave her his car.
A month prior to the bombing, the 63-year-old also gave his family home worth $250,000 to a California-based woman, whose link to him is yet to be determined, according to the Daily Mail.
Warner's mother reportedly sued him in a property dispute in 2019, after he fraudently asserted his right to the home in August 2018, sources claimed .
© Photo : Twitter / @MNPDNashville
A photo of the consequences of the morning Nashville explosion in the US posted on Twitter, December 25, 2020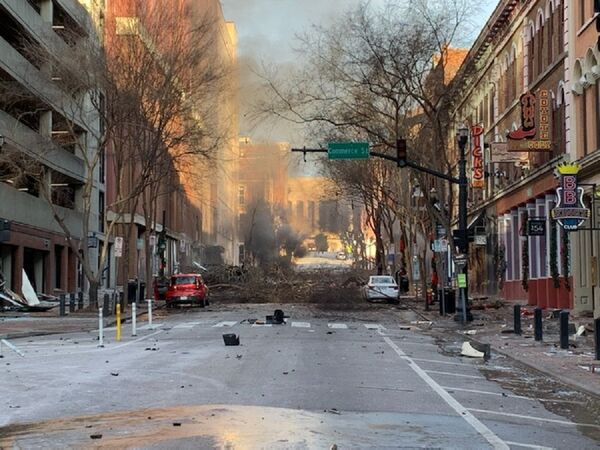 A photo of the consequences of the morning Nashville explosion in the US posted on Twitter, December 25, 2020
The man's neighbours, Steve Schmoldt and his wife, described Warner as a friendly person and a "low key" man, adding that "some people would say he's a little odd".
"Never saw him go anywhere. As far as we knew, he was kind of a computer geek that worked at home", Steve Schmoldt said.
He was echoed by other neighbors who called the retired burglar alarm installer "an oddball", who was often seen fiddling with strange antennas outside of his home in Antioch, a Nashville suburb.
In this vein, media cited law enforcement sources as saying on Sunday that Warner may have been a 5G conspiracy theorist and a believer in aliens.
"We are waiting on the digital footprint that should finally provide us with some answers", the source explained, referring to electronic devices that were seized from Warner's home and then sent to a digital forensic laboratory.
"The unofficial motive thus far is the suspect believed 5G was the root of all deaths in the region and he'd be hailed a hero", the sources added.
They also said investigators are trying to determine whether Warner's father's death from dementia fuelled the 63-year-old's 5G conspiracy theories.
His father, who died in 2011, worked for telecom firm BellSouth, which later merged with AT&T. The Nasvhville bombing badly damaged a critical AT&T transmission centre, causing havoc with phone communications in a number of states that is yet to be resolved by the company.
The FBI, meanwhile, has refused to officially comment on Warner's possible motives, with Special Agent Doug Korneski noting that "these answers won't come quickly and will still require a lot of our team's efforts".