British Foreign Secretary Dominic Raab has condemned Beijing for refusing to allow diplomats from the UK and other countries to attend the trial over the "Shenzhen 12" activist group. He further accused Chinese authorities of denying the defendants access to "lawyers of their choosing" and said that such actions raise "serious questions about access to legal counsel in mainland China."
"We expect China to uphold the rule of law and conduct trials in a fair and transparent manner, consistent with the basic requirements of international human rights law", Raab said in a statement.
Raab also slammed Beijing for conducting the trial "in secret" on 28 December and giving Shenzhen 12 members only three-days' notice prior to it.
The 12 members of the activist group helped organise anti-government protests in Hong Kong in 2019, some of which spiralled into riots and led to vandalism and injuries to police officers. The dozen was caught by China's Coast Guard back in August as they attempted to illegally cross the border and flee to Taiwan to avoid prosecution. While Beijing considers Taiwan a part of its territory it does not exercise de-facto control over the island.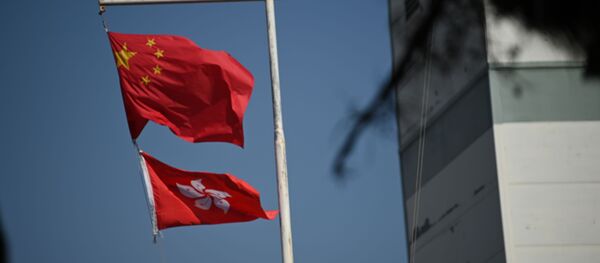 28 December 2020, 07:30 GMT
The 2019 Hong Kong protests rocked the semi-autonomous Chinese territory after the authorities introduced a new national security law to outlaw treason and calls to divide the country. The government's attempts to quell the violent unrest was widely condemned by Western countries, who said Beijing was violating protestors' rights. China dismissed the criticism and cautioned the West against meddling in its domestic affairs.