Mexican President Andres Manuel Lopez Obrador said Monday that Mexico could grant Julian Assange political asylum, if London agrees to release him. Speaking at a press conference, the president said he had asked the foreign minister to reach out to the UK authorities about the possible offer.
"Assange is a journalist and deserves a chance, I am in favour of pardoning him...We'll give him protection", Lopez Obrador told journalists.
Earlier in the day, UK Judge Vanessa Baraitser ruled to block Assange's extradition to the United States, as the journalist's mental state would make him a suicide risk if he were handed over to the US.​
Following the announcement, the US Department of Justice said it was "disappointed" with the ruling and will continue its efforts to have the WikiLeaks founder extradited.
Assange's Extradition Trial
Assange's lengthy extradition trial, where his legal team tried to present evidence he was being indicted for political reasons, wrapped up in October.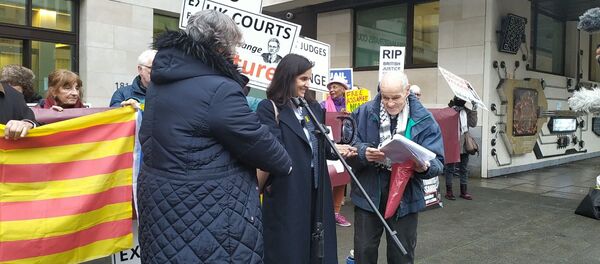 4 January 2021, 15:12 GMT
Assange is wanted in the US over the release of the largest trove of classified data in history. In 2010, WikiLeaks made public US diplomatic cables and documents exposing atrocities committed by American troops during military operations in Afghanistan and Iraq.
Washington has accused Assange of spying and wants him handed over to the United States, where he could face up to 175 years in solitary confinement if he is convicted on 18 espionage and computer fraud charges for leaking the top-secret data.
Assange is currently being kept in Belmarsh Prison near the British capital, where he was taken after the Ecuadorian Embassy in London discontinued its political asylum for the journalist.