California's Department of Health said on Thursday that providers can resume administering Moderna's coronavirus vaccine following a brief pause introduced on Sunday.
According to state epidemiologist Dr. Erica Pan, California's Department of Health held discussions with various US authorities, and found no scientific basis to continue the pause.
"These findings should continue to give Californians confidence that vaccines are safe and effective", the epidemiologist added.
On 19 January, Moderna stated that it had received a report from the department saying that some people injected with the vaccine experienced an allergic reaction.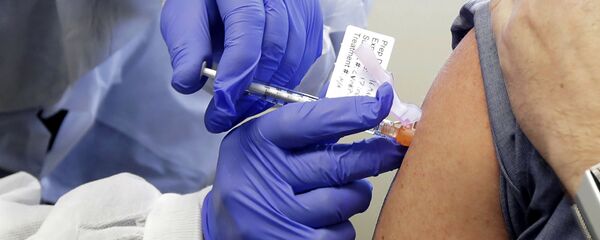 5 January 2021, 17:32 GMT
After concerns over the vaccine were raised, Moderna, the Centres for Disease Control and Prevention, and the US Food and Drug Administration started undertaking a review of the batch in question.
More than 330,000 doses of this particular lot were distributed to 287 healthcare providers across California earlier this month.
The US Food and Drug Administration approved the Moderna vaccine for emergency use in individuals 18 years or older on 18 December.