Joe Biden raised a staggering amount of donations from anonymous donors during the 2020 election, which culminated with him becoming the 46th President of the United States, BNN Bloomberg reports.
According to the media outlet, out of the $1.5 billion of Biden's total haul, some $145 million arrived in the form of so-called "dark money" donations, the media outlet notes, adding that it essentially means the public "will never have a full accounting" of who helped the POTUS win.
The total dark money figure donated to Biden's election campaign surpasses the previous $112 million record set in 2012 by Mitt Romney, and overshadows the $28.4 million "spent on behalf" of Donald Trump.
Bloomberg also notes that, despite previously expressing a desire to ban the dark money practice "as uniquely corrupting since it allows supporters to quietly back a candidate without scrutiny," the Democrats instead embraced it.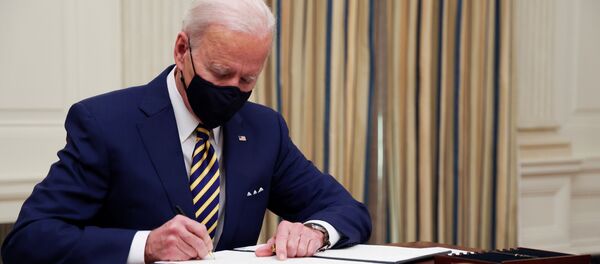 22 January 2021, 20:11 GMT
"We weren't going to unilaterally disarm against Trump and the right- wing forces that enabled him," said Guy Cecil, chairman of Priorities USA Action super PAC.
Priorities USA Action reportedly backed Biden's election campaign with some $26 million raised through donations to their non-profit arm, Priorities USA, with the media outlet noting that "the donors of that money do not have to be disclosed."
Democratic Senator Sheldon Whitehouse, however, has insisted that "dark money is toxic to democracy – period," saying in a statement that "the fact that progressive groups have learned to fight back using similar tactics is no excuse for continuing the plague of dark money in America."