In an interview on December 11, 2018, Trump told Reuters that he would intervene in the case brought forward by the Justice Department against Meng if it would be beneficial to US national interests, including striking a trade deal with China favorable to Washington. At the time, the Trump administration had been engaged in negotiations with Beijing concerning a comprehensive trade deal between the two superpowers, the first phase of which was agreed upon in December 2019.
"With that utterance, Ms. Meng became a bargaining chip - a pawn - in this economic contest between these two superpowers," Richard Peck told a British Columbia Supreme Court courtroom on Wednesday. "Those words amount to the opening salvo in this trade war."
Peck emphasized that Trump and members of his administration coopted a plot to use Meng and her status in China to advance US interests, saying that the former president's "abhorrent" comments amount to an abuse of process.
Peck added that Trump might be the first leader of a state requesting extradition to have, not only publicly commented on the legal proceedings, but indicated their intentions and reasons for the request.
Peck also stressed that the ongoing extradition process is part of a concerted US-led effort to "debilitate, if not destroy" Huawei, a sentiment previously expressed by Huawei and Beijing. To support his claim, Meng's legal counsel cited speeches and public comments by top US officials, including former Secretary of State Mike Pompeo and former Attorney General Bill Barr.
The 49-year-old executive's lawyer said that US and Canadian officials are aware of the damage Trump's comments have caused, citing statements made by then-Canadian Foreign Minister Chrystia Freeland, who said extradition should be used to only pursue justice immediately after the former president's interview and more recently sitting US President Joe Biden.
During a virtual meeting last month between Biden and Canadian Prime Minister Justin Trudeau, the US president said that "human beings are not bargaining chips." Peck stressed that this statement applied as much to Meng as it did to the two Canadian nationals detained in China on charges of espionage, in an apparent attempt to disassociate the current US policy from Trump.
However, Peck dismissed Biden's possible attempt to rectify the situation, saying his comments in no way repudiate Trump's previous comments and come far "too late."
Peck also cited Trudeau's comments as evidence of a politicized legal process, referencing the Prime Minister's insistence in December 2019 that any future US-China trade deals address the ongoing detention of Meng and the two Canadians.
© REUTERS / JENNIFER GAUTHIER
Huawei Technologies Chief Financial Officer Meng Wanzhou leaves her home to attend a court hearing in Vancouver, British Columbia, Canada December 7, 2020.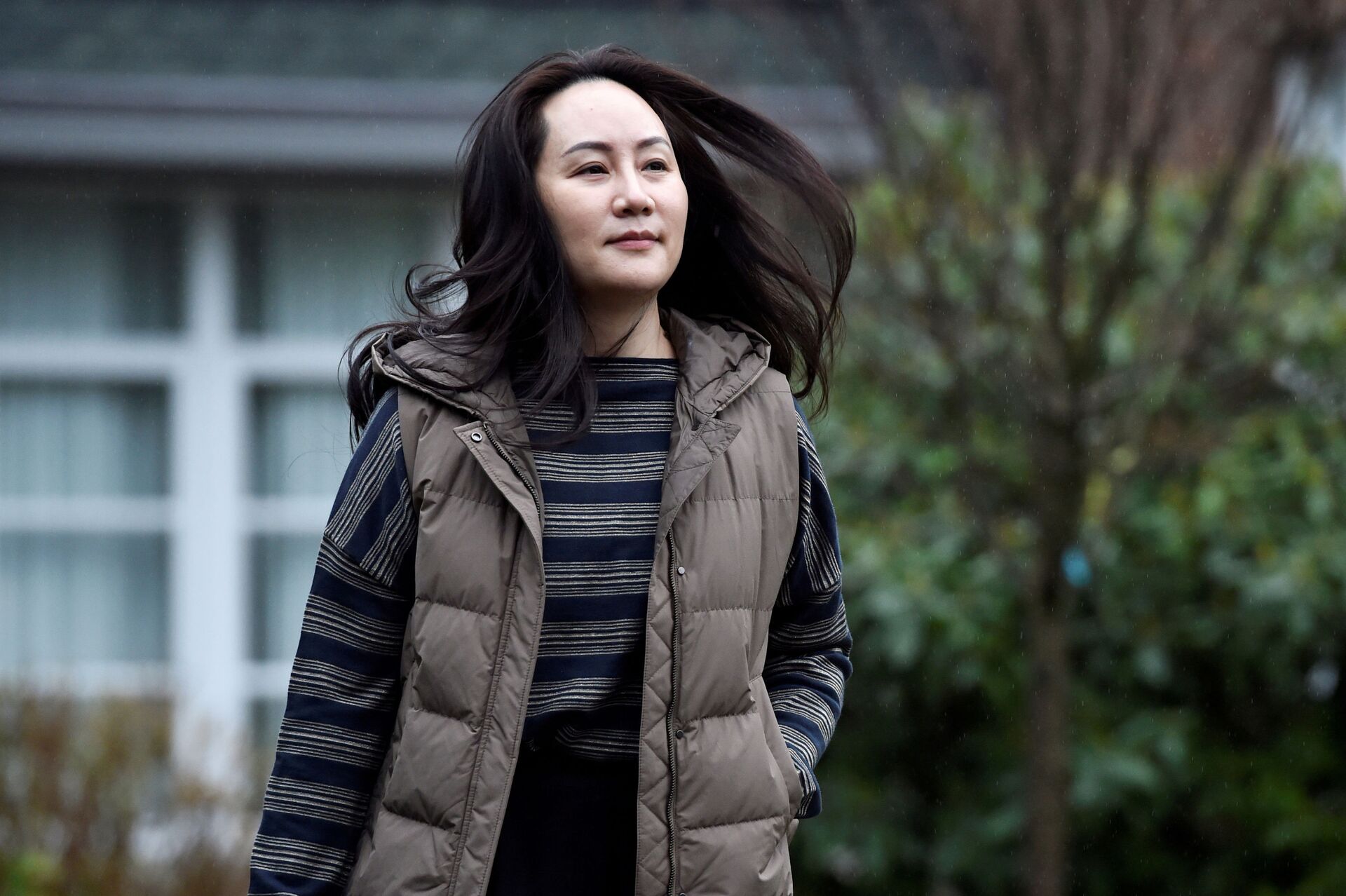 Huawei Technologies Chief Financial Officer Meng Wanzhou leaves her home to attend a court hearing in Vancouver, British Columbia, Canada December 7, 2020.
Meng, the daughter of Huawei founder and CEO Ren Zhengfei, was arrested on December 1, 2018 at Vancouver International Airport during a layover stop at the request of the US government.
Meng is wanted by US authorities for her alleged role in violating sanctions against Iran. The US Justice Department alleges that Meng committed financial transgressions by misleading multinational financial conglomerate, HSBC, into approving more than $100 million in transactions that contravened US sanctions on Iran from 2010 to 2014.
In May, the Supreme Court of British Columbia dismissed the Huawei executive's application to end extradition proceedings against her.
The arrest of Meng and two Canadian nationals in China - former diplomat Michael Kovrig and businessman Michael Spavor - brought diplomatic relations to its lowest point in years, which have slightly rebounded amid global efforts to contain the novel coronavirus pandemic. Both Beijing and Ottawa view the detention of their nationals as political incidents.
Speaking to reporters on Wednesday, China's ambassador in Canada, Cong Peiwu, reiterated calls for Canada to immediately release Meng and mend relations between the two nations.
The hearings in this extradition case are expected conclude in mid-May.