The US Navy's USS Zumwalt stealth destroyer has survived a major test in rough seas, dispelling fears the uniquely designed ship isn't seaworthy.
In order to test the Zumwalt's abilities in heavy seas, a team of US Navy engineers accompanied the ship and its crew on a trip into waters off the southern coast of Alaska in the fall of 2020 where a major storm produced "Sea State Six" conditions, according to a Navy release, which describes waves between 13 and 20 feet high.
"There were no exceedances of critical motion criteria limits," the release said. The next step is for the Naval Surface Warfare Center in Carderock, Maryland, to replicate the conditions in its own "indoor ocean" test pool.
© Flickr / Naval Surface Warriors
The future USS Zumwalt Navy destroyer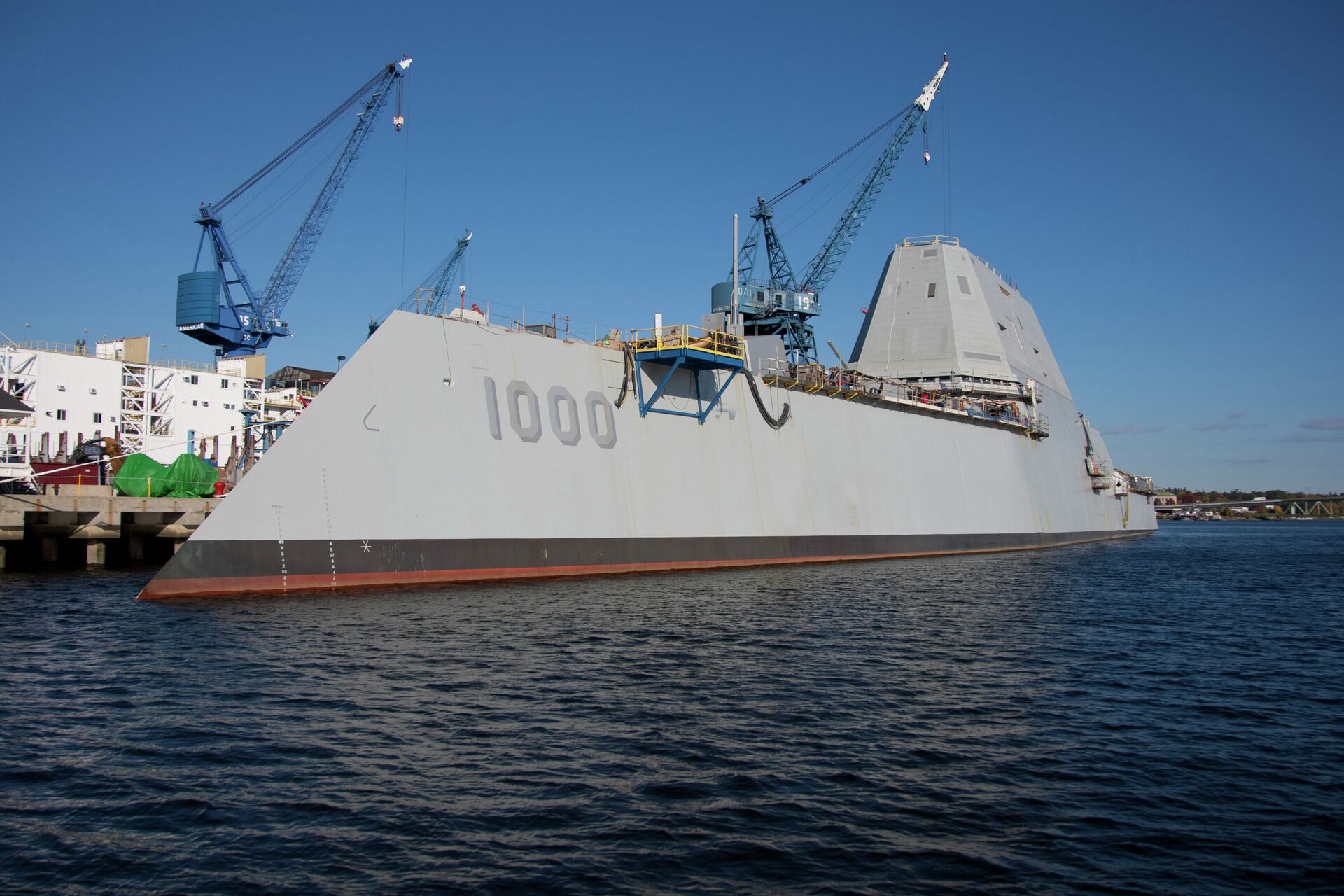 The future USS Zumwalt Navy destroyer
© Flickr / Naval Surface Warriors
The Zumwalt is the largest ship ever designed with a "tumblehome" hull, meaning it narrows above the waterline instead of widening. In many smaller boats, the wider lower hull facilitates greater stability, but pre-World War I battleships that employed the design suffered greater problems, leaving critics wondering if it was wise to buck a century's worth of shipbuilding wisdom with the warship.
The fear was also likely exacerbated by the reputation of Lockheed Martin's F-35 Lightning II, a highly advanced stealth aircraft that is banned from flying in stormy weather due to its highly ironic vulnerability to lightning strikes, among numerous other shortcomings limiting its performance.
"All told I'd rather be on that ship than any other ship I've been on," Capt. Andrew Carlson, commander officer of the Zumwalt, told Defense News last year about another rough seas voyage.
"You definitely have to get used to the roll, which is very short compared to other ships," he noted. "For those of us who have been on cruisers, especially up top, you kind of lean over 15 degrees and you wonder if you are going to come back. We didn't experience any of that. As long as you get used to the finer oscillation, it really handles very well."
The Navy has received three Zumwalt-class warships, which are the largest destroyers afloat. Originally envisioned as a massive coastal-bombardment platform, the Zumwalt was repurposed as a more conventional missile cruiser.