The United States has conducted "defensive precision airstrikes" targeting facilities allegedly used by Iranian-backed military groups at the Iraq-Syrian border, the Department of Defense said on Sunday.
The airstrikes came directly on the US president's order.
"At President Biden's direction, U.S. military forces earlier this evening conducted defensive precision airstrikes against facilities used by Iran-backed militia groups in the Iraq-Syria border region. The targets were selected because these facilities are utilized by Iran-backed militias that are engaged in unmanned aerial vehicle (UAV) attacks against U.S. personnel and facilities in Iraq," the Pentagon said in a statement.
"Specifically, the U.S. strikes targeted operational and weapons storage facilities at two locations in Syria and one location in Iraq, both of which lie close to the border between those countries. Several Iran-backed militia groups, including Kata'ib Hezbollah (KH) and Kata'ib Sayyid al-Shuhada (KSS), used these facilities," the statement added.
Pentagon in statement: US military conducted strikes against facilities used by Iran-backed militias in Iraq/Syria border region. …As demonstrated by this evening's strikes, President Biden has been clear that he will act to protect U.S. personnel. pic.twitter.com/i1KX9ohAWY

— Laura Rozen (@lrozen) June 27, 2021
US Airstrike in Syria Likely Killed Child, State Media Report
Syrian state television reported that a US airstrike in the eastern Syrian province of Deir ez-Zor likely left a child dead and three more injured. According to a correspondent of Al-Ikhbariya broadcaster, the military jet – likely a US one – attacked residential buildings near the town of Al Bukamal.
The Syrian authorities have repeatedly stated that the US presence in the country violates the country's sovereignty and international law, and is aimed at gaining access to the oil fields.
According to Military.com, citing a Pentagon official, the airstrikes in the region were conducted by F-15 and F-16 fighters with high-precision shells used. The aircraft reportedly flew from US bases in the Middle East and returned safely after the operation was completed. The source added that it was too early to say whether any militants or civilians were killed or injured in the attack.
Listen to them! These were #USAF's F-15E Strike Eagles while were flying low over Al-Qaem after their crew dropped precision guided bombs at headquarters of #PMU's Katayeb Sayyid Al-Shuhada (14th Brigade) killing 4 militiamen & causing injuries in 3 others. https://t.co/GtS9moaQbY pic.twitter.com/IrBXQvf0lY

— Babak Taghvaee - Μπάπακ Τακβαίε - بابک تقوایی (@BabakTaghvaee) June 28, 2021
The US military assumes that each of the strikes hit targets and is now assessing the consequences, Pentagon spokesperson Jessica McNulty said. She also stressed that since April, Iranian-backed militants have carried out at least five drone attacks against facilities of the US and coalition forces.
McNulty also told Sputnik that the US had preliminarily sent notification to its allies and partners about the airstrikes.
US, Allies Fear Iran's Entrenchment in the Region
The airstrikes come just after the US consulate in Erbil, Iraqi Kurdistan, confirmed that three explosive-laden drones hit locations in the northeast of the city on Saturday, just as the Iranian-backed Popular Mobilization Units (PMU), opposing the US military presence in Iraq, held a military parade near Baghdad.
Earlier, on June 20, a missile landed near the Ayn Al Asad airbase in the western Iraqi province of Anbar, as per Iraqi media citing security forces. According to a senior Iraqi military spokesperson, Ayn Al Asad the only airbase in Iraq where the US-led coalition forces were still stationed after the Iraqi parliament's decision that all foreign troops must withdraw.
A surge in sophisticated attacks reportedly performed by military groups funded, trained, and backed by Tehran has triggered significant concerns over Iran's outreach in the Middle East to counter its main regional adversaries, such as Saudi Arabia and Israel. The latter has recently called pro-Iranian militants "the main threat" to the Jewish State.
© AP Photo / Mohammed Zaatari
Hezbollah fighters raise their group flags, as they salut the coffin of their comrade Mohammed Tahhan who was shot dead on Friday by Israeli forces along the Lebanon-Israel border, during his funeral procession, in the southern village of Adloun, Lebanon, Saturday, May 15, 2021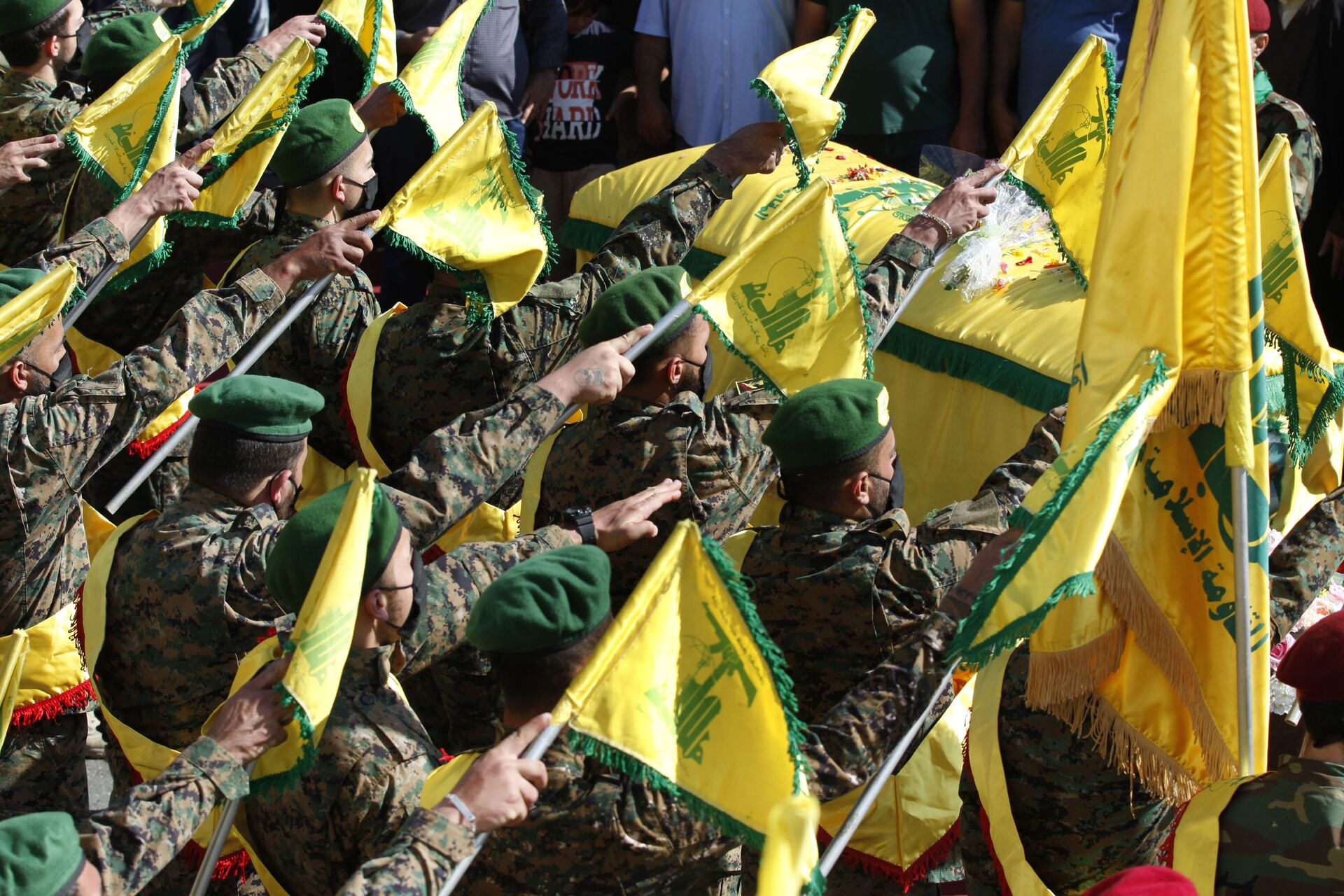 Hezbollah fighters raise their group flags, as they salut the coffin of their comrade Mohammed Tahhan who was shot dead on Friday by Israeli forces along the Lebanon-Israel border, during his funeral procession, in the southern village of Adloun, Lebanon, Saturday, May 15, 2021
© AP Photo / Mohammed Zaatari
Over the past year and up to the present, Israel has conducted numerous airstrikes in Syria, targeting alleged positions of Iran-backed militants in the Arab Republic. According to IDF Chief of Staff Lt.-Gen. Aviv Kochavi, the Israeli has been fighting what he called "Iranian entrenchment" in Syria.
The United States has repeatedly stated its commitment to Israel's security, which remains its main ally in the region (as well as the Saudis).
Tensions High Ever Since Soleimani Was Assassinated
In January 2020, the Iraqi parliament voted to end the presence of all foreign forces in the country after on January 3, Iranian top military commander, Gen. Qasem Soleimani was killed in a drone strike at Baghdad International Airport ordered by former US President Donald Trump. According to US media, Israeli intelligence helped the US track Soleimani on the day of his assassination.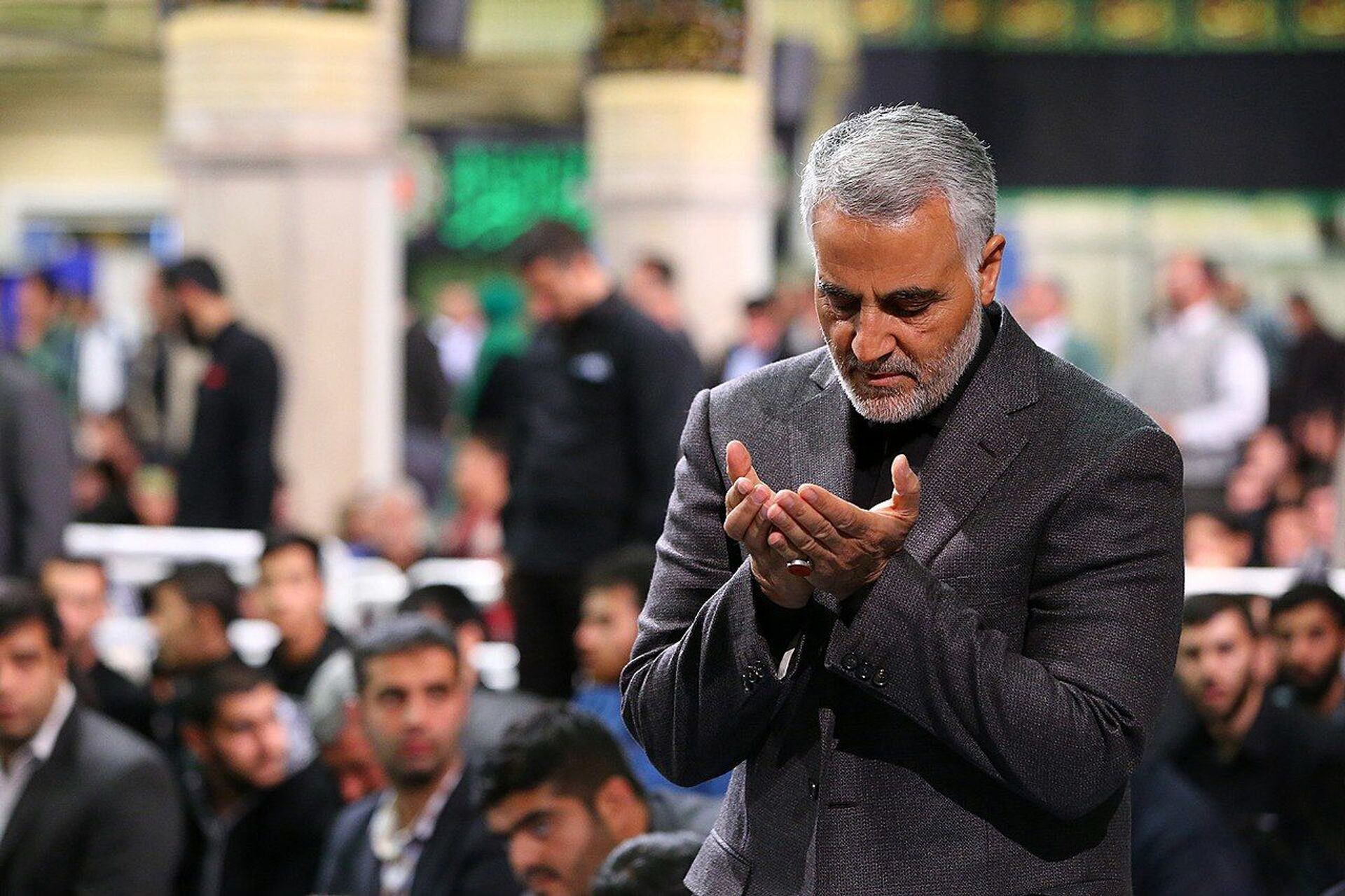 Qasem Soleimani Saying Prayer in Imam Khomeini Hossainiah in Tehran
Tehran retaliated just days later, striking the US Ain Al Asad airbase and the US-led coalition headquarters in Erbil. No American soldiers were killed in the strikes, but dozens suffered traumatic brain injuries (TBI), the Pentagon said. Media speculated that the Iranian military was allegedly unsatisfied with the retaliatory strikes.
Soleimani was a highly-respected person in Iran, praised for combatting terrorist groups in the region (including the infamous Daesh*) and considered an architect of modern Iran's security infrastructure.
---
*Daesh (also known as ISIS/ISIL/IS) is a terrorist organization outlawed in Russia and many other states