The Office of Communication (Ofcom) has said
Piers Morgan
did not violate broadcasting rules when he questioned Meghan Markle's comments in the interview with US talk show host Oprah Winfrey. The broadcasting regulator
said in a statement
that Morgan was entitled to say he did not believe the Duchess of Sussex. 
"This interview became a major international news story and we acknowledged it was both legitimate and in the public interest for ITV to broadcast debates featuring presenters such as Mr Morgan scrutinising those allegations including the veracity, timing and possible motivations of the claims", reads Ofcom's statement, adding, that silencing strong views would be a "chilling restriction on freedom of expression both of the broadcaster and the audience".
The broadcasting regulator acknowledged that comments made by Morgan about Meghan Markle "were potentially harmful and offensive to viewers", but stressed that it took "full account of freedom of expression".
"Under our rules broadcasters can include controversial opinions as part of legitimate debate in the public interest", Ofcom said.
Piers Morgan praised the news posting several statements on his social media.
I'm delighted OFCOM has endorsed my right to disbelieve the Duke & Duchess of Sussex's incendiary claims to Oprah Winfrey, many of which have proven to be untrue. This is a resounding victory for free speech and a resounding defeat for Princess Pinocchios.
Do I get my job back? pic.twitter.com/czhzeejYpa

— Piers Morgan (@piersmorgan) September 1, 2021
'I Wouldn't Believe a Weather Report if She Read it'
Over the course of his career, Piers Morgan has had countless spats with celebrities, including singer Madonna, actors Hugh Grant and Ewan McGregor, John Cleese, and football player Aaron Ramsey. Morgan hasn't been afraid to clash swords with politicians and even banned all cabinet ministers in Boris Johnson's government from appearing on the Good Morning Britain show when he was a host.
However, his biggest feud seems to be with Prince Harry and Meghan Markle, whom he once described as "a pair of spoiled, entitled, hypocritical brats". On 8 March, the royal couple
gave an interview
to US talk show host Oprah Winfrey, during which they made several sensational claims.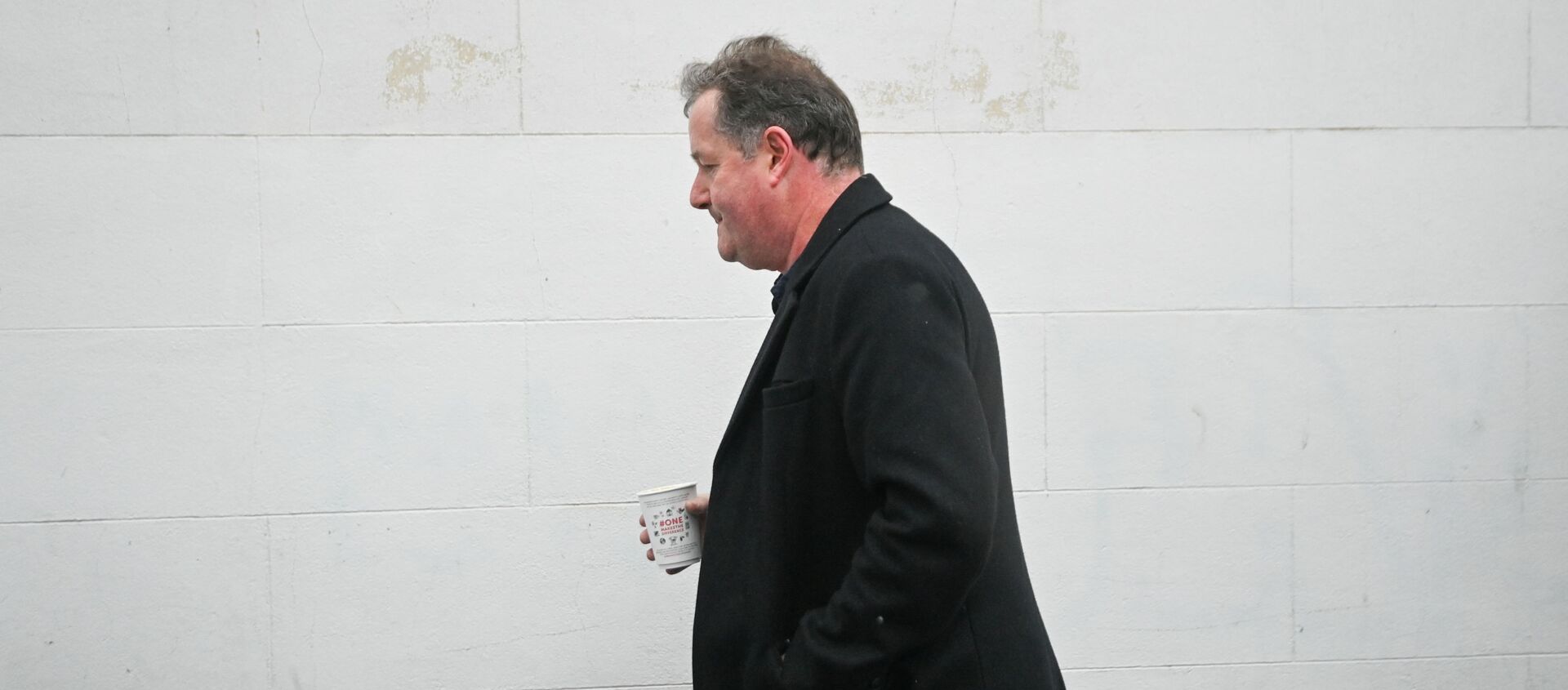 Meghan Markle hinted that one member of the family, who she didn't name, was racist, accused the Palace of spreading falsehoods about her and Prince Harry and said she lost her freedom after she became a royal.
The Duchess also revealed that she had suicidal thoughts during her pregnancy and that life as a royal became so unbearable that she "didn't want to be alive anymore". Meghan claimed she asked the royal staff to help her, but they refused.
The claims in the interview made headlines across the globe, with numerous high-profile figures expressing support for Meghan Markle and Prince Harry. There were those who reproached the couple as well. Morgan was among the critics. During a broadcast of Good Morning Britain,
he questioned allegations
made by Meghan Markle and described the interview as a "disgraceful betrayal of the Queen and the Royal Family".
"Who did you go to? What did they say to you? I'm sorry, I don't believe a word she said. I wouldn't believe it if she read me a weather report", Morgan said when commenting on Meghan's claim that royal staff refused to help her with suicidal thoughts.
Morgan's comments triggered a wave of criticism from viewers, who said that the TV host was trivialising mental health issues. According to the UK media, the journalist's diatribe against Markle resulted in a record amount of complaints (57,000). The management of ITV later told Morgan to issue an apology to Meghan Markle for disbelieving her claims. He refused and tendered his resignation.
In the statement
posted on Twitter
, Morgan wrote that he takes the issue of mental health seriously, but reiterated that he doesn't believe Meghan Markle. Later the TV host lamented the fact that he was accused of racism and cancelled after voicing an unpopular opinion.
"It didn't matter that I've never said anything racist about her or that my only comments about her race have been to say repeatedly how great it was that a bi-racial woman married into the Royal Family. We are allowed to have strong opinions even if some people wince. Freedom of speech is more important than the Meghan Markle debacle", Morgan said.