In a huge push for gender equality in India, the federal government has allowed women to apply for a permanent commission in the defence forces. Women have also been allowed entry into the National Defence Academy and the Naval Academy, which are the prime defence training institutes in the country.
"A decision has been taken at the highest level of forces and government that girls will be inducted for permanent commission through [the] National Defence Academy. [The] decision was taken late last evening".
"The decision has been approved by the chiefs of the country's three defence services - the Indian Air Force, Indian Army, and the Indian Navy", Aishwarya Bhati, a senior lawyer representing the government, informed the Supreme Court on Wednesday.
The bench led by Justice Sanjay Kishan Kaul, however, urged the forces to do more on gender equality.
On 18 August, the Supreme Court passed an interim order permitting women to appear at National Defence Academy (NDA) examinations on a provisional basis. The order was passed in a writ petition filed by plaintiff Kush Kalra, who argued that the "exclusion of women from [the] NDA was arbitrary, discriminatory, and unconstitutional".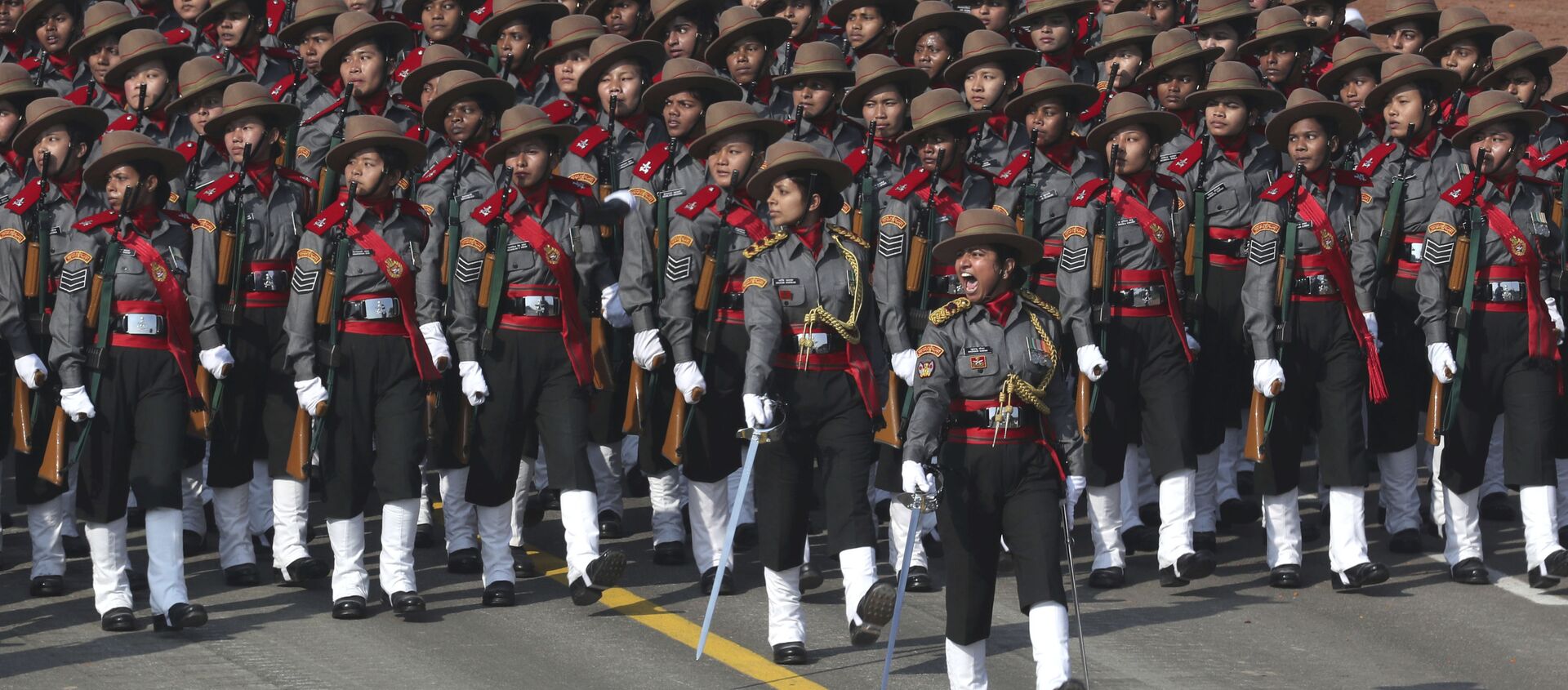 17 February 2020, 07:42 GMT
At present, women are recruited in the defence services as short service commission officers with a limited tenure in service. As such, they remain blocked from reaching the top decision-making posts within the services because they cannot pursue a defence services career until retirement age.
But that is not the matter here. The issue was simple- women were allowed to serve for 14 years as Short Service Officers in selected branches but not for 20 years as career officers in those very branches. The matter is/was not about combat or induction in close combat roles.

— Navdeep Singh (@SinghNavdeep) September 8, 2021
On 17 March 2020, the Supreme Court ruled that women officers be given the right to apply to convert their short service commissions to permanent commissions, an option that is currently available to male officers.
The decision has brought a wave of joy not just among aspirants but also ex-servicemen who are hailing it as "historic".
"This is one big blot cleared from the name of defence services in our country. The gender discrimination was not just illogical but also extremely unfair on the fairer sex. Girls are at par with boys in all professions and defence services should have opened their doors to them long ago", B.S. Bindra, a retired brigadier from the Indian Army told Sputnik.
Reacting to the decision, Rekha Sharma, chairperson of the National Commission of Women expressed her happiness on Twitter.
Following the Supreme Court directions, Armed Forces allow the induction of girls into NDA. Training alongside and at par with boys at the premium military institution is not a dream anymore. A historic decision that will change the defence forces in future for good. Congrats 🎉 pic.twitter.com/kCTbYNb0DX

— Swapnil Pandey (@swapy6) September 8, 2021